Neo-Nazis want 'monument to the white race' built in North Dakota town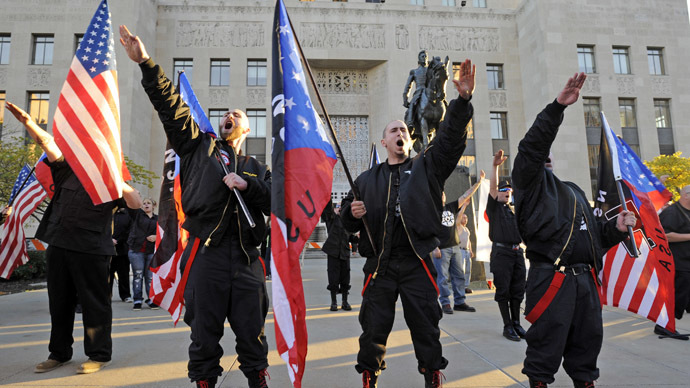 A group of Neo-Nazis who unsuccessfully attempted to take over a small North Dakota town last year now say they're considering erecting a monument there to honor the white race.
The city of Leith, ND made headlines in 2013 when Craig Cobb, an infamous white supremacist, reportedly purchased a dozen plots of land there with plans to relocate a congregation of like-minded individuals into town to create a "whites only" enclave. Cobb's vision has been anything but realized, however, and local media reported last month that he now lives 220 miles away after pleading guilty to charges of terrorizing and misdemeanor related to his racist endeavor.
All isn't lost, though, according to an Associated Press dispatch this week.
On Thursday, the AP reported that Cobb deeded away some of those lots to three fellow white supremacists who have plans for the property.
One of the individuals, former Ku Klux Klan Grand Wizard Tom Metzger, "says he's considering at some point building a monument to the white race," the AP reported, "or perhaps erecting a sign imploring oil companies to not destroy the environment."
Jeff Schoep, another Cobb ally also known by the moniker "skoop," may try to establish a building for National Socialist Movement members, the AP added.
In March, Metzger told the Dickinson Press that had had "no interest in giving any [lots] back" to Leith. According to this week's AP report, Mayor Ryan Schock tells reporters that any of the men's effort — be it for a "white power museum" or otherwise — is not currently a concern for the city, which the United States Census Bureau counts only 16 people as residents.
When asked at the city's 105-year anniversary celebration last month about Cobb's unsuccessful attempt to turn Leith into a whites-only enclave, Mayor Schock told WDAZ News: "We're not even going to try to bring the thing up."
"We've got the town nice and cleaned up now, and things are kind of back to normal. I think it's a good way to put an end to it all," Schock said.
If Cobb's colleagues have their way, however, then all that might change.
You can share this story on social media: