George W Bush writing biography of his father, Bush 41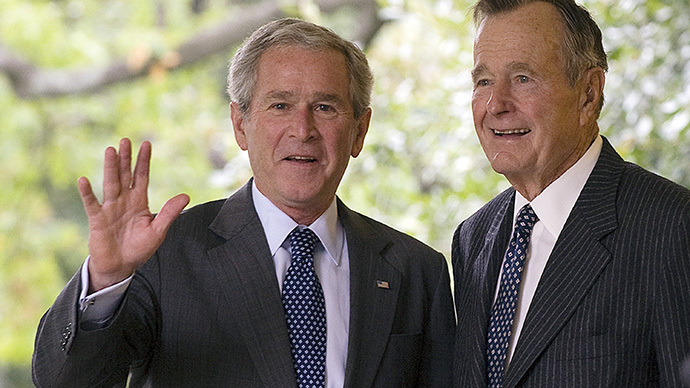 Painting isn't the only type of art former President George W. Bush has taken up since leaving office in 2009. Now he has written a biography about his father, former President George H. W. Bush.
The son previously wrote 'Decision Points', a memoir of his time in office, but the father has no memoir of his own. That book was released in 2010. The 41st president is one of the few to hold the office in modern times to not pen an autobiography, according to the Associated Press. He is an author in his own right, however. His books include 'All the Best: My Life in Letters and Other Writings' and 'A World Transformed', a collaboration with former National Security Advisor Brent Scowcroft.
"George H. W. Bush is a great servant, statesman, and father," the younger president said in astatementby the publishing company. "I loved writing the story of his life, and I hope others enjoy reading it."
"Never before has a President told the story of his father, another President, through his own eyes and in his own words," The Crown Publishing Group statement proclaimed. The 41st and 43rd presidents were the second father-son pair to assume the office, after John and John Quincy Adams served in the early 1800s.
George Herbert Walker Bush was born on June 12, 1924, the son of Massachusetts Sen. Prescott Bush. He attended the elite Phillips Andover boarding school, then joined the Navy on his 18th birthday in 1942. He became the youngest US naval combat pilot during World War II. He flew carrier-based torpedo bomber aircraft, flying a total of 58 combat missions, including one where he escaped a burning plane that was hit during his bombing run. Bush was awarded the Distinguished Flying Cross for his WWII service, according to Biography.com.
After the war, he went on to Yale University, where he was a member of the secretive Skull and Crossbones Society. Upon graduation, he and his wife, Barbara Pierce Bush, moved to Texas, where he worked in the oil industry and became active in Republican politics. In 1966, he became a US congressman, serving two terms before moving on to several appointed positions, including US ambassador to the United Nations in 1971, head of the Republican National Committee during the Watergate scandal, US envoy to China and director of the Central Intelligence Agency in 1976.
Bush then ran for the Republican presidential nomination in 1980, losing out to eventual President Ronald Reagan, who selected him as his vice president. After Reagan's two terms were over, Bush beat Massachusetts Gov. Michael Dukakis to enter the White House in 1989, serving as commander-in-chief during the first Gulf War. He lost his re-election bid in 1992 to then-Gov. Bill Clinton of Arkansas.
George W. Bush covers "the entire scope" of his father's life in the biography, as well as "his father's influence on him throughout his own life, from his childhood in West Texas to his early campaign trips with his father, and from his decision to go into politics to his own two-term Presidency," the statement said. The younger president, nicknamed 'W', was elected to the office in 2000 after serving as the governor of Texas since 1994. He narrowly beat then-Vice President Al Gore. His younger brother, Jeb, is the former governor of Florida. They have four other siblings.
"As the only father and son to each have served as President of the United States since John and John Quincy Adams, George H. W. Bush and George W. Bush occupy a unique position in history," Maya Mavjee, president and publisher of The Crown Publishing Group, said in the statement. "In this heartfelt, intimate, and illuminating portrait of his father, George W. Bush brings to vivid life his unique perspective of the personal qualities and principles that have animated George H. W. Bush's extraordinary life of service to country and family."
The Crown Publishing Group will release the still-unnamed book in November. The former president will also be the subject of two other upcoming tomes: one by Jon Meacham, a Pulitzer Prize-winning biographer, and 'George H. W. Bush: Character at the Core', by former Bush speechwriter Curt Smith, also scheduled to come out this fall, according to AP.