Topless women troll Texas open-carry advocacy event (VIDEO)
Published time: 29 Jul, 2014 17:52
Edited time: 29 Jul, 2014 18:06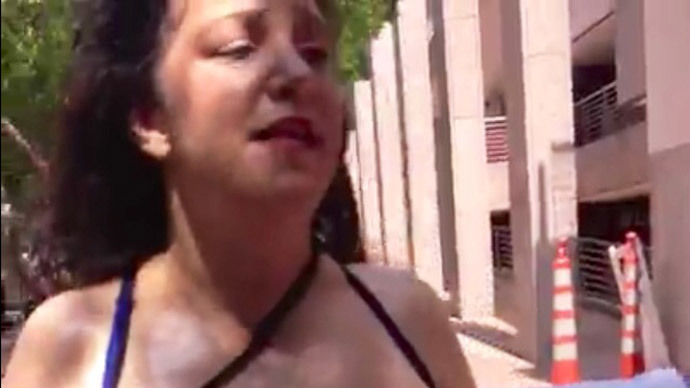 In a battle royale between the right to bear arms and the right to bare all, two topless women attended a pro-open carry rally in Austin, Texas. Now the group running the event is complaining the buxom bosoms are ruining its message
The Texas chapter of Come and Take It America (CATI) hosts a monthly walk through the state capital's downtown area, designed to "continue to keep the right to bear arms fresh in the minds of police," the national website said. "It will show the public that we are law-abiding friendly citizens and are nothing to fear."
Texas CATI hosted its monthly walk on Tuesday, asking attendees to use a sling "to promote a nonaggressive manner of carry," according to their Facebook page.
Enter the busty counter-protesters with their 'big guns' blazing, holstered in harnesses of their own. The topless trolling twosome carried signs that read, "You realize that everyone thinks you're overcompensating for your teeny tiny 'gun' right?" and "Boobs for peace."
And chaos ensued.
The women told CATI walkers that they can legally open carry their breasts the same way the men open carry their rifles. Exposed mammalia are legal in Texas.
"My daddy and brother have guns, but they have more than enough sense not to parade them around downtown Austin," one woman said. "You don't need to have them in public," later saying that gun owners should "keep it concealed."
"There's no valid point," a walker responded. "This is one of the provocateurs."
"If it was me, I'd put a dollar in your shorts," one of the men there told the women.
"Believe it or not, those Second Amendment guys totally took the bait," Dan Casey wrote in the Roanoke Times. "They responded by showing a lot of disrespect for those gals' First Amendment rights."
The women were not blameless either, according to event attendees. One of the open carry advocates, Tom Jefferson, claimed that counter-protesters harassed them. "They followed us into a small coffee shop and called us the Aryan Brotherhood," he said, according to Raw Story. "They continually used terms like white pride and white power."
The walk's attendees blamed the rack rebellion on pro-gun control group Moms Demand Action for Gun Sense in America (MDA), which MDA founder Shannon Watts denied on Twitter.
Lol: Nice try. Not our moms, not even members. "@DLoesch: Gross. Put a top on. http://t.co/dzptLBUN3M h/t @EricReedGRAA"

— Shannon (@shannonrwatts) July 28, 2014
Phyllis Masters was one of the hecklers with hooters on display, and confirmed she's not a member of MDA. According to Raw Story, she posted on Facebook, "The only group I belong to involves my own pervy nature."
The CATI members also continued their lambasting of the women on the group's Facebook page, calling the the eye-catching counter-protesters "heifers," "filthy and unkempt," "skanky topless libtards" and "MDA topless idiots that trolled our Cati-Austin event." Some posters also claimed the two have "penis envy" and are "composed of not much more than self loathing from a lifetime of neglect."
Eric Reed, the president and founder of Gun Rights Across America, wrote in Buzzpo, "Incidents like this highlight the degree of how delusional these gun-grabbing women really are. It's hard for me to fathom what would possibly motivate a middle-aged sober, and allegedly sane woman to publicly troll the downtown streets of Austin topless."
@GerLoe43@beckkevray@DLoesch@ChrisLoesch@GRAA_MS@atomiktiger@shannonrwattshttp://t.co/28gb1K8cGFpic.twitter.com/ZVoyktKizH

— Eric Reed (@EricReedGRAA) July 27, 2014
Masters ranted more in her post. "The comments about our boobs are HYSTERICAL! By the way, we were told we are a disgrace to our race by a couple of the open carry guys. You want to support the Aryan nation get the FUCK off my page NOW."
One of the two women involved, who described herself as a "topless advocate," told Casey that the gun marchers creep her out. "We're not in the Moms Against Guns group; we're not hired by [former New York City Mayor Michael] Bloomberg," she said. "I'm a homegrown, pissed-off local."
She vowed to be at every future open-carry march in Austin, "with my floppy titties."