89 yo Nazi war crime suspect dies in US custody before extradition to Germany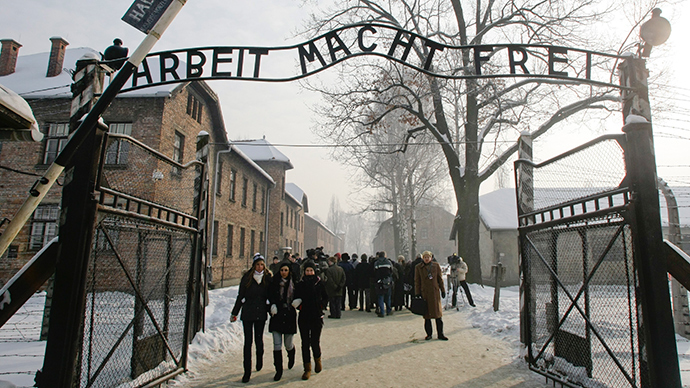 An 89-year-old Nazi war crimes suspect and American citizen died in custody just hours before a US court gave the go ahead for his extradition to Germany.
Johann Breyer died on Tuesday night at Thomas Jefferson University Hospital in Philadelphia, where he had been transferred on Saturday after spending a month behind bars.
"I can confirm he passed away last night," his lawyer Dennis Boyle told AFP on Wednesday.
Breyer's death was disclosed just as US Magistrate Timothy Rice had approved the extradition request, which would have still needed approval by a US government review.
Rice found probable cause that Breyer was in fact the same individual being sought by German prosecutors in the Bavarian town of Weiden over his alleged service as an SS concentration camp guard first at Buchenwald, and later at Auschwitz.
"No statute of limitations offers a safe haven for murder," AP cites Rice as writing in his 31-page ruling.
Breyer was born in Czechoslovakia and admitted to joining the Waffen SS at the age of 17. He told The Associated Press in a 2012 interview that while he had served as a guard at Auschwitz, he was assigned to a part of the camp that was not involved in the murder of Jews.
"I didn't kill anybody, I didn't rape anybody – and I don't even have a traffic ticket here," he said. "I didn't do anything wrong."
Johann Breyer 89 yo Nazi concentration camp guard - Auschwitz pic.twitter.com/zlvd6y3nrQ

— Patricia O. Shea (@patty_shea) June 19, 2014
Families of the victims criticized German authorities for not acting more quickly to bring Breyer to justice. Thomas Walther, who represents seven members of victims' families, said Thursday that Breyer's death in Philadelphia "clearly demonstrates the devastating effects of a hesitant and unnecessary pseudo-investigative procedure to the German justice system and public.''
Walther blamed the Weiden prosecutors' office, which led the investigation, for delays in providing US authorities with documents, as well as a decision to take statements from Auschwitz survivors that "contributed nothing'' to the case.
He immigrated to the US in 1952, where he lived for over half a century before being arrested by federal officials in Philadelphia, Pennsylvania last month on a 2013 German arrest warrant. Officials said the arrest was delayed for a year due to the complexity of the extradition request.
He was facing charges of aiding in the killing of 216,000 Jewish men, women and children at a Nazi death camp. That figure was estimated from the number of Jewish detainees transported to Auschwitz on 158 trains from May to October 1944.
Breyer was first accused of a Nazi connection by the US Justice Department back in 1992. The government attempted to revoke his citizenship, though he was ultimately allowed to stay after it was revealed that his mother was born in the US. His arrest warrant was based on revised German laws, which allow former Nazi guards to be charged with accessory to murder, as the soul function of the concentration camps was to exterminate human life.
The same legal interpretation was used to secure the 2011 conviction of John Demjanjuk, a retired Ukrainian-American auto worker convicted of accessory to the murder of 27,900 Jews while acting as a guard at the Nazi extermination camp near Sobibór in occupied Poland. Demjanjuk, ironically, had himself survived the Nazi concentration camps' system as a Red army prisoner of war.
In Breyer's case, his lawyers argued he was merely a victim of circumstances.
"All of the evidence presented on behalf of the German government by the US government demonstrates that Johann Breyer was born in the wrong place at the wrong time," lawyers for Breyer said on Friday in documents filed in the US District Court in Philadelphia.
"He was forced into a service he did not want to enter as a teenager, and for his trouble, ended up in a Soviet Prisoner-of-War Camp… Mr Breyer is not a war criminal," the papers read.
Rice was incredulous to Breyer's claim of being unaware of the camp's inner workings.
"A death camp guard such as Breyer could not have served at Auschwitz during the peak of the Nazi reign of terror in 1944 without knowing that hundreds of thousands of human beings were being brutally slaughtered in gas chambers and then burned on site," Rice wrote.
His lawyers had further attempted to secure his release on bail pending the extradition hearing because of his poor health, given his history of heart disease, stroke and dementia.
A judge, however, said health facilities in the federal prison system were more than capable of caring for Breyer.
"It is particularly unfortunate that Mr Breyer could not be brought to justice in view of the significant efforts that were invested in trying to hold him accountable for his service at the Auschwitz death camp," Efraim Zuroff, the head Nazi hunter at the Simon Wiesenthal Center in Jerusalem, told AP after Breyer's passing.
You can share this story on social media: