Snoop Dogg claims he smoked marijuana in the White House bathroom (VIDEO)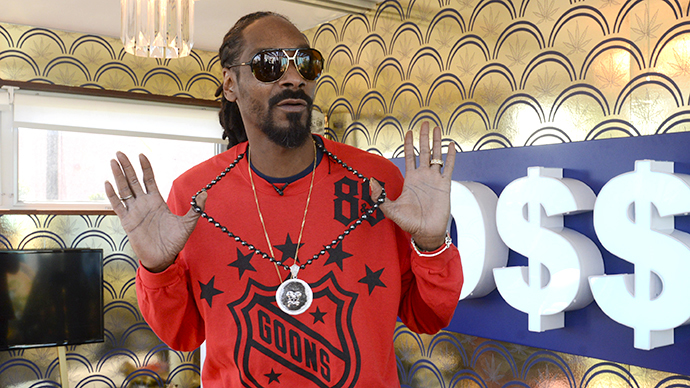 Rapper Snoop Dogg is claiming that he turned the White House green during a past visit to the presidential mansion. According to the artist, he lit up a marijuana joint in the White House bathroom.
Snoop Dogg — who was born Calvin Broadus in 1971 — insisted as much during an installment of the rapper's online talk show, GGN, posted to YouTube on Tuesday this week.
In a segment that shows the artist conversing with comedian-turned-television show host Jimmy Kimmel, Snoop Dogg says he excused himself to use the restroom while at 1600 Pennsylvania Avenue, and then proceeded to puff on a joint with presumably no one the wiser.
"I said, 'May I use the bathroom for a second?' And they said, 'What are you going to do? No. 1 or No. 2? I said, 'No. 2,'" Snoop tells Kimmel in the clip.
"So I said, 'Look, when I do the No. 2, I usually, you know, have a cigarette or I light something to get the aroma right.' They said, 'You know what? You can light a piece of napkin.' I said, 'I'll do that.'"
After having that conversation with the federal agents on hand at the unnamed event — Snoop said he asked either "the CIA," "the FBI" or another one of "the alphabet boys"—the rapper went into the bathroom and reportedly smoked a hand-rolled blunt.
"This is some story," Kimmel commented.
Although Snoop Dogg's allegations remain unsubstantiated for now, if accurate then it places the rapper in a peculiar part of pop culture and White House folklore alongside the likes of country legend Willie Nelson, who claimed to have smoked a joint on the roof of the White House during the administration of Jimmy Carter in the 1970s.
And while whether or not Snoop actually toked in the White House washroom remains a matter that may never be confirmed, the rapper was, in fact, on hand at the home of President Barack Obama last December ahead of the Kennedy Center Honors, according to USA Today.
Meanwhile, a new law went on the books only last week in DC that largely decriminalizes marijuana and replaces jail sentences and hefty fines for possession of up to one ounce of weed with a simple citation and $25 fine.
On the president's part, Mr. Obama recently refused an offer to smoke a supposed joint presented to him during a trip through Colorado — the first state in the US to legalize recreational weed.
You can share this story on social media: