2 IDF-enlisted Americans killed in Gaza fighting
Published time: 21 Jul, 2014 09:31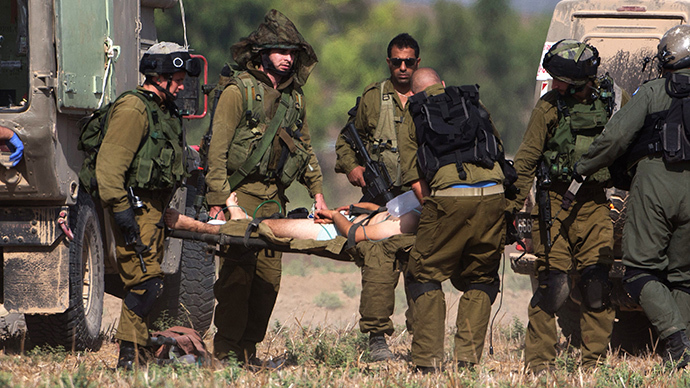 Two US citizens have been confirmed dead after the deadly Sunday in Gaza, when at least 87 Palestinians and 13 Israeli soldiers killed. The Americans were enlisted with the Golani Brigade of the Israel Defense Forces and fell in the battle of Shejaia.
Max Steinberg, 24, a native of San Fernando Valley in California, and Nissim Sean Carmeli, 21, from South Padre Island, Texas, both had American citizenship.
The US State Department confirmed the deaths of American citizens of Steinberg and Carmeli on Sunday night.
"We can confirm the deaths of US citizens Max Steinberg and Sean Carmeli in Gaza. Out of respect for those affected by this, we have nothing further at this time," said State Department spokeswoman Jen Psaki.
The Facebook page of Max Steinberg maintains that he became soldier of Israel Defense Forces [IDF] on December 11, 2012. Starting from July 19, 2013 he was assigned as a sharpshooter.
According to the Jewish Federation of Greater Los Angeles, Max Steinberg first time visited Israel through the 'Birthright' program together with his younger brother and sister in June 2012. This program is called to attract young Jewish adults from abroad to visit the country at the program's expense.
In late 2012, Steinberg returned to Israel to join the IDF. He lived in Beersheba, the largest Israeli city in the Negev desert.
The Jewish Journal of Los Angeles interviewed Max's father, Stuart Steinberg, who said that the trip to Israel changed his son's life. On returning from Israel Max Steinberg told his parents he was planning to return to join the IDF.
"Although he was American he truly connected," Steinberg senior said. "He belonged there."
Stuart Steinberg said he had a phone conversation with his son on early Saturday morning, mere hours before his death. Max Steinberg told his father his group had been returned to Israel for treatment at the hospital after an incident with two IDF tanks collision, in which some soldiers suffered broken bones, while Max Steinberg sprained his back.
"He called me up at 4am [California time] that morning and said he'd be returning to Gaza, back to combat, to be with his friends," Steinberg said.
Nissim Sean Carmeli moved to Israel four years ago after finishing high school, Deputy Consul General of Israel to the Southwest Maya Kadosh told AP.
In Israel, where two of his sisters live, Carmeli joined the IDF and settled in Ra'anana, in the center of the country.
"He had great energy, yet had a kind and gentle soul," Carmeli family friend Rabbi Asher Hecht of Chabad of the Rio Grande Valley told AP. "It's been a very tough day for us. We lost a gem."
The deaths of 13 IDF soldiers on Sunday became the worst loss of the Israeli military since the Lebanon war in 2006, when Israeli army confronted Hezbollah militants. The IDF lost 18 soldiers over the last two days altogether.
For Palestinians, who lost 87 people, it is the highest death rate since fighting in Gaza began on July 8.