​Maryland smallpox storage also held 300 vials with dengue, influenza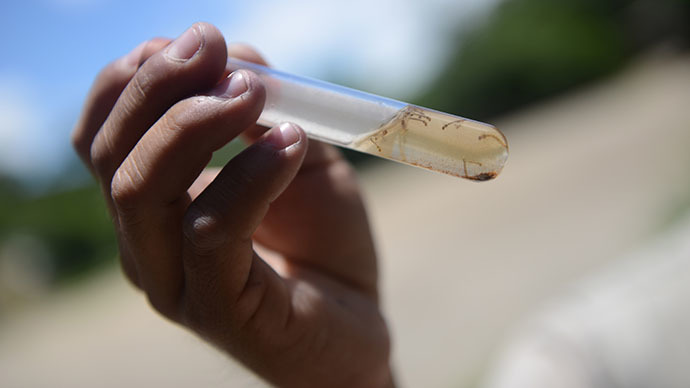 The cold storage in Bethesda, where several sealed vials with smallpox were discovered last month, also had over 300 vials likely containing pathogens like dengue, influenza and rickettsia, it was revealed.
The 327 vials were stored at a the National Institutes of Health stashed in 12 boxes in a corner of a cold storage room, the Food and Drug Administration reported Wednesday. The FDA believes the collection of pathogens was assembled between 1946 and 1964 by government scientists. The administration has been using the facility since 1972.
"The fact that these materials were not discovered until now is unacceptable," Karen Midthun, director of the FDA's Center for Biologics Evaluation and Research (CBER), told reporters. "We take this matter very seriously, and we're working to ensure that this doesn't happen again."
"The reasons why these samples went unnoticed for this long is something that we're actively trying to understand," said Peter Marks, CBER's deputy director
The officials said 32 of the samples containing tissue samples and a non-contagious virus related to smallpox were destroyed at an NIH facility. Some unlabeled vials were sent to the Centers for Disease Control and Prevention for testing. An additional 279 were transferred to the Department of Homeland Security's National Biodefense Analysis and Countermeasures Center in Maryland.
The agency noted all the vials were heat-sealed and no sign of leakage was discovered. Scientists are yet to confirm that the vials indeed contained all the pathogens marked on the labels. But at least two of the vials with smallpox discovered in the storeroom had viable strains of the eradicated disease.
The revelation comes as Thomas Frieden, director of the Centers for Disease Control and Prevention, testified before representatives of the Energy and Commerce subcommittee on the incident last month, in which more than 80 CDC employees may have been exposed to live anthrax during the transportation of samples from one lab to another.
"We missed a critical pattern," he told lawmakers. "And the pattern is an insufficient culture of safety."
He admitted that the agency has long believed that the lapses in handling hazardous agents as unrelated accidents rather than a general problem.
Last week FDA reported that there had been at least four previously undisclosed incidents over the past decade in which deadly pathogens were improperly handled.