US citizen being tested for Ebola after visiting Guinea and Sierra Leone
An American man is being quarantined in the African nation of Ghana while researchers there test to see if he's infected with the deadly Ebola skin-eating virus.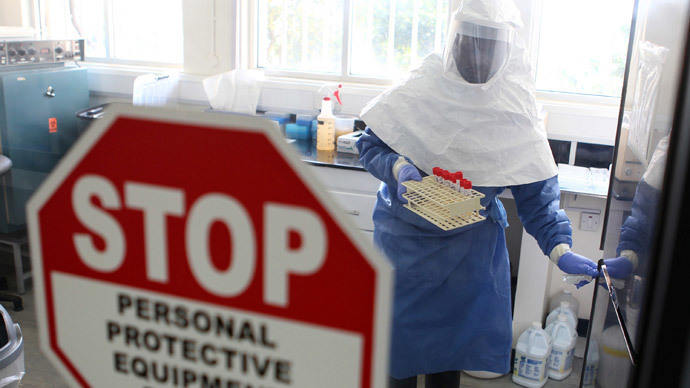 The man, whose name has not yet been released, fell ill this week after traveling through the region, a senior government official in Ghana told Reuters on Monday.
"He is an American and records showed that he had been to Guinea and Sierra Leone in the past few weeks," a health ministry official told Reuters, where a recent outbreak has killed hundreds of people already in 2014.
Since February, the BBC reported this week, an Ebola outbreak discovered first in Guinea has killed more than 460 people in the region, and the World Health Organization says it is the deadliest wave of the disease ever.
If contracted, a patient infected with the virus may show signs of fever, vomiting and diarrhea, as well as internal and external bleeding. The chance of survival, Reuters reported, is only around 10 percent of those infected with the disease.
According to the newswire, the tests results may be ready as early as late Monday. Meanwhile, though, the man is being held under certain conditions at a clinic in Accra while doctors at the nearby Noguchi Memorial Institute of Medical Research wait to view the results of the test.
Officials in Ghana told the BBC that it has put "precautionary measures" in place while it awaits the results of the testing, and that the clinic staffers who've been close to the man are now quarantined as well.
"The reality is clear that the epidemic is now in a second wave," Bart Janssens, the director of operations for France's Médecins Sans Frontières, told the Irish Examiner this week. "And for me, it is totally out of control."
"There needs to be a real political commitment that this is a very big emergency," he said. "Otherwise, it will continue to spread, and for sure, it will spread to more countries."
A spokesperson for the US embassy in Ghana confirmed to Reuters on Monday that officials informed staffers there an American citizen has been quarantined.
You can share this story on social media: