NSA gathered 'startlingly intimate' data on ordinary citizens, Snowden data reveals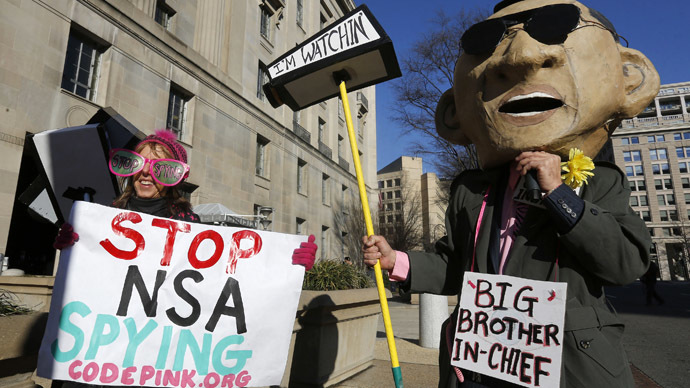 Ordinary internet users targeted by NSA spying "far outnumber" the foreigners who are legally monitored, a Washington Post report revealed. The data intercepted includes "startlingly intimate" material which is automatically retained by the NSA.
Analysis of Snowden's data by the US publication has shown the extent to which the spy agency inadvertently gathers the account data of ordinary Americans and non-Americans. Spy-turned-whistleblower Edward Snowden provided the Post with a cache of leaked data from the US National Security Agency.
The data analysis revealed that 9 out of 10 internet users who were caught in NSA data sweeps over a four-year period were not the intended surveillance targets. According to the Post, "a strikingly high proportion" of the files gathered by the agency contained email addresses, names and addresses of US citizens or residents.
As part of the investigation, the Post reviewed around 160,000 intercepted emails and instant message conversations, as well as 7,900 documents pulled from 11,000 online accounts. The information was collected between 2009 and 2012, spanning President Barack Obama's first term in power.
NSA's internet surveillance program is constitutional, Obama's panel of experts insists
A large proportion of the data classified as "useless" by analysts contained "startlingly intimate" material. This included "stories of love and heartbreak, illicit sexual liaisons, mental-health crises, political and religious conversions, financial anxieties and disappointed hopes." The NSA also gathered around 5,000 personal photos.
"In some photos, men show off their physiques. In others, women model lingerie, leaning suggestively into a webcam or striking risque poses in shorts and bikini tops."
Even though these files were branded as "useless" by intelligence analysts, they were still retained by the NSA and can be accessed at any time by analysts should the need arise. In spite of criticism that the NSA's intelligence practices are almost "Orwellian in nature," the US government has yet to address the issue of ordinary user data that is inadvertently picked up by the NSA's dragnet spy programs.
All but four nations are subject to NSA surveillance – new Snowden leak
The Post writes that "incidental collection" of third-party data by intelligence programs is unavoidable "in most forms of surveillance." Under current American law, the authorities must obtain a warrant from a special surveillance court in order to intercept the communications of an individual. To do this, there must be reasonable evidence the target has valuable information on terrorist organizations or foreign governments that could be of value.
Although a large quantity of the data gathered in the NSA's dragnet programs was inconsequential, some crucial intelligence was gleaned from the files, the Post writes. It cites the 2011 capture of a Pakistan-based bomb builder who was caught as a result of months of tracking communications across dozens of alias accounts.
The Post said there were other examples, but it had been asked by the CIA not to reveal them because it could jeopardize ongoing investigations.
You can share this story on social media: