Obama: Undocumented immigrant children will not remain in US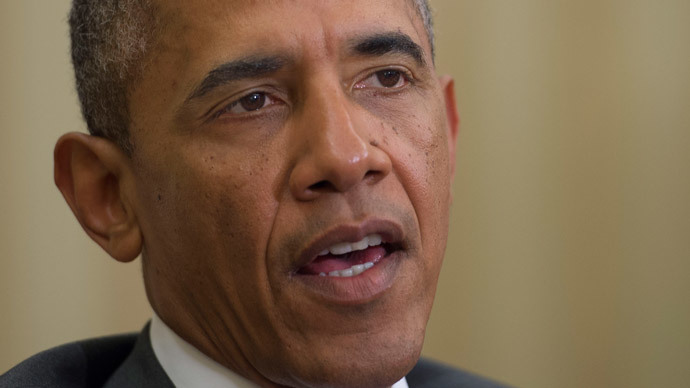 President Obama outlined a tougher US strategy for dealing with an influx of undocumented immigrant children during a conversation with his Mexican counterpart, which rules out legalized status and deferred deportation.
Obama and Mexican President Enrique Peña Nieto spoke on Thursday regarding a "regional strategy" to cope with a noted increase in the arrival of unaccompanied children from Central America, who are illegally crossing into the US through Mexico.

The White House has had to deal with increasing pressure from border states such as Texas, where lawmakers have been vocal regarding a perceived lack of engagement by the federal government to tackle an uptick in illegal border crossings.

On Thursday, the Texas legislature approved "surge operation" measures to increase funding to border operations, while Governor Rick Perry took the opportunity to blame Washington for what he says is its inability to secure the border.

"Texas can't afford to wait for Washington to act on this crisis, and we will not sit idly by while the safety and security of our citizens are threatened."

According to the Obama administration, the swelling number of child immigrants stems from poverty and violence in countries including Honduras, El Salvador and Guatemala. A recent UN report ranked Honduras as having the world's highest murder rate, while El Salvador continues to tackle drug cartel violence, and Guatemala faces narco violence overflow from Mexico.

During their phone conversation Obama "welcomed the opportunity to work in close cooperation with Mexico to develop concrete proposals to address the root causes of unlawful migration from Central America." The White House said the US encouraged Mexico to work in tandem to return undocumented immigrant children back to their families in Central America.
Vice President Joseph Biden is set to visit Guatemala on Friday to discuss the situation with Central American officials. Biden will also look to emphasize the administration's message that undocumented youth will not be allowed to remain in the US, while outlining the dangers involved with illegal border crossings.

The US is now set to spend $40 million for increased security efforts in Guatemala, along with $25 million in funding for youth outreach centers in El Salvador and $18.5 million towards law enforcement efforts in Honduras.

Makeshift holding centers have been set up in Arizona to cope with over-capacity at Texas facilities. Conditions there have been described as Spartan at best, with Border Patrol urgently requesting basic supplies including medicine and mattresses.

According to a memo by Border Patrol Deputy Chief Ronald Vitiello, as many as 90,000 undocumented children may attempt to cross into the US this year.