Obama sending up to 300 military advisers to Iraq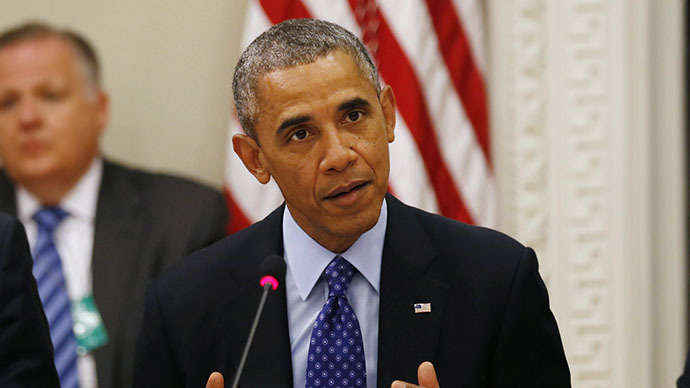 President Barack Obama said Thursday that up to 300 additional American military personnel will head to Iraq and assume an advisory role there amidst a growing insurgency that's threatened the republic's central government.
Speaking from the White House, Pres. Obama said the new deployment is meant "to assess how we can best train, advise and support Iraqi security forces going forward."
The latest announcement comes only days after Pres. Obama said earlier this week that he was sending 275 armed troops to Baghdad as a security precaution after Islamic militants took two other major cities in the region by storm in a matter of only days.
On Thursday, however, the president reiterated that no US troops will assume combat roles in Iraq, although the Pentagon is ready to take "prepared and targeted" military action overseas if necessary.
Baghdad has already asked Washington to provide air strikes, the chairman of the Joint Chiefs of Staff said on Wednesday this week, but the US has not yet used force in Iraq despite a quickly escalating crisis. As RT reported previously, a lack of action on the Pentagon's part has been attributed at least in part to the US intelligence community's inability thus far gather sufficient details concerning the missions being waged by Islamic State in Iraq and the Levant (ISIL) militants.
That could soon change, however, after Obama said Thursday that the US has significantly increased its surveillance, reconnaissance and intelligence assets in Iraq, which will "Give us a greater understanding of what ISIL is doing." Earlier this week, it was reported that F-18 surveillance aircraft had already flown over the region and were being docked on an aircraft carrier in the Persian Gulf.
Notwithstanding America's role in the conflict thus far, Obama again urged Iraqi leaders on Thursday to resolve their difference diplomatically and "rise above their differences and come together around a political plan."
"American combat troops are not going to be fighting in Iraq again," Obama said, adding later that "Ultimately this is something that is going to have to be solved by the Iraqis," including in particular Prime Minister Nouri Al-Maliki.
Speaking of Maliki, Obama said regardless of "whether he is prime minister or any other leader aspires to lead the country," Iraq's central government must adopt an agenda in which "Sunni, Shiaand Kurds all feel that they have the opportunity to advance their interests through the political process." Earlier, multiple officials in both the US and Iraq implied the Obama administration has been concerned about Maliki's handling of the situation in his country, and that they'd welcome the prime minister's resignation.
"It's not our job to choose Iraq's leaders," Obama continued. "Part of what our patriots fought for during may years in Iraq was the right and the opportunity for Iraqis to determine their own destiny and chose their own leaders. But I don't think that there's any secret that, right now at least, there is deep division between Sunni, Shiaand Kurdish leaders."
You can share this story on social media: