Starbucks serves up online college education to employees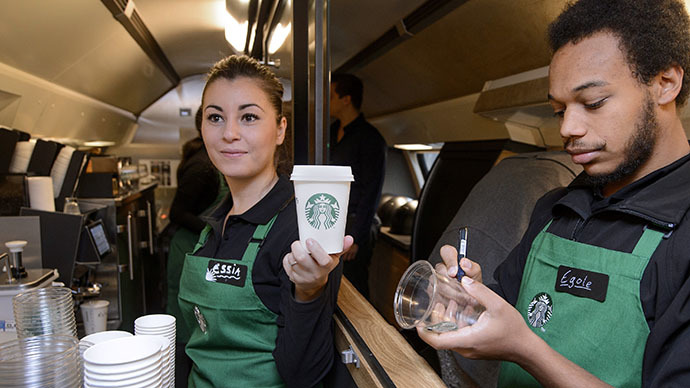 Starbucks will offer free or partially subsidized online college education to thousands of its workers in order to counter what the company's CEO called a "fracturing American dream."
"Starbucks believes in the promise and pursuit of the American Dream. This fall, we're making it possible for thousands of part- and full-time US partners to complete a college degree," the company says in a statement on its website.
The program, 'a first of its kind' collaboration with Arizona State University, will be available to any of the firm's 135,000 US workers working at least 20 hours a week at one of Starbuck's 8,200 company-operated locations. Another 4,500 US locations are operated by franchisees.
Starbucks says the program doesn't require baristas to continue employment once they earn their degrees. Employees will also be able to choose from 40 undergraduate programs which are not related to their work at the company. But while some fear empowering their employees with education would give them an incentive them to leave, Starbucks CEO Howard D. Schultz told the New York Times it was more likely to give the company a boost.
"I believe it will lower attrition, it'll increase performance, it'll attract and retain better people," he said.
In a statement on the company's page, Shultz speaks in terms which are seemingly more befitting of an Occupy Wall Street rally than a corporate boardroom, speaking of a breakdown in America that is leaving many behind.
"In the last few years, we have seen the fracturing of the American Dream. There's no doubt, the inequality within the country has created a situation where many Americans are being left behind. The question for all of us is, should we accept that, or should we try and do something about it," said Schultz.
"Supporting our partners' ambitions is the very best investment Starbucks can make. Everyone who works as hard as our partners do should have the opportunity to complete college, while balancing work, school and their personal lives."
According to the firm, Starbucks investment is mean to support the nearly 50 percent of college students who are unable to finish their university education due to" mounting debt, a tenuous work-life balance and a lack of support."
In line with the scheme, employees admitted to ASU as a junior or senior will earn full tuition reimbursement for each semester of full-time coursework they complete toward a bachelor's degree. Freshmen and sophomores will be eligible for a partial tuition scholarship and need-based financial aid for two years of full-time study.
Starbucks' existing tuition reimbursement program gives workers up to $1,000 a year for courses at City University of Seattle or Strayer University. So far, Starbucks has paid out $6.5 million under that program, Laurel Harper, a company spokeswoman, told AP.
Meanwhile, tuition for an online degree at ASU is about $10,000 a year, which is practically the same as what one would pay for the university's traditional degree program. For the freshmen and sophomore years, Starbucks and Arizona State say they will put around $6,500 on average toward the estimated $20,000 in total tuition. The remaining deficit would likely be made up for in some form of financial aid.
It remains to be seen how many workers will take advantage of the program or how much Starbucks Corp. will be forced to cough up for it. The company has not disclosed the terms of its agreement with ASU.
Starbucks has always been ahead of the curve in terms of employee rights in the low wage service sector. Even part-time employees have access to health insurance. The company has also offered workers restricted stock options, known as Bean Stock, on top of a 401 (k) matching retirement program. They also get a free pound of coffee a week, free drinks during breaks, and a 30 percent discount on Starbucks food, beverages and merchandise.
While this seemingly generous approach would seem to be counterintuitive to most of corporate America, none of these policies have stopped Starbucks meteoric rise to the top.
Its stock, which closed Friday at $74.69, has increased in value more than hundredfold since first going public in 1992. Starbucks is currently the largest coffee-shop operator.
Starbucks, however, is not the first firm to offer low-wage workers in the service industry such a tuition scheme. Rather ironically, it was Wal-Mart, a company famous for raking in $17.2 billion in profits a year while their employee received $2.66 billion in government help during the same period, that offered a partial tuition scheme in 2010 with the for-profit, online American Public University.
Over the years, the issue of student debt has struck at the very heart of wealth inequality in the United States. Last year, student loan debt crossed the $1.2 trillion mark, with the average student borrower graduating with a $26,600 loan obligation.
While college graduates ages 25 to 32 working full time earn $45,500, roughly $17,500 more than their peers with just a high school diploma, the gap between those with and without student debt is far more striking.
According to William Elliott III, director of the Assets and Education Initiative at the University of Kansas, there is an inverse correlation between student debt and asset accumulation.
The median 2009 net worth for a household without outstanding student debt was $117,700, nearly three times the $42,800 worth in a household with outstanding student debt, according to a report co-written by Elliott last November.