Court says Occupy Boise protesters can restore tent city in Idaho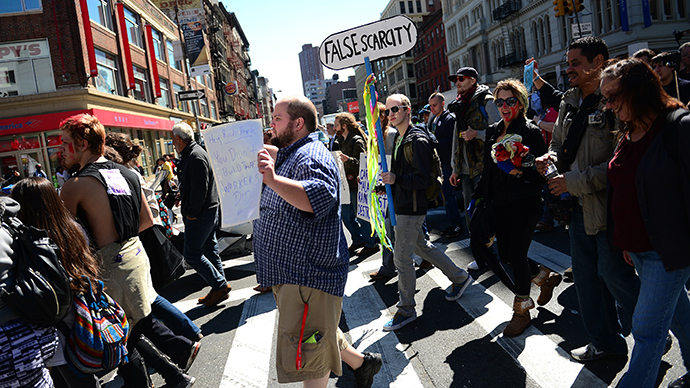 A federal judge in Idaho agreed this week that officials have no right to keep protesters from demonstrating on the lawn of the state capitol building in Boise.
United States District Judge Lynn Winmill's Wednesday decision declares that efforts in 2012 to remove protesters from a localized Occupy Wall Street offshoot were unconstitutional.
As that movement began to gain momentum across the US in late 2011, Idaho Gov. Butch Otter signed a law that enacted a handful of rules concerning Occupy Boise protesters wishing to protest on state property, including provisions that outlawed anything on the capitol property considered to be camping.
Judge Winmill wrote this week that a lawsuit filed on behalf of the protesters in 2012 is now moot since the laws were later rescinded, but he nevertheless agreed to make a decision requested by Occupy Boise that could open the door for future protests like the ones that were previously outlawed.
As part of the ruling, Winmill issued a permanent injunction that hereby blocks the state from removing protest tents because he said such conduct "targets political speech for suppression."
"The defendants' policy of enforcing I.C. §§ 67-1613–1613A to remove symbolic and assembly tents on State grounds or to prevent protesters from staffing tent protests around the clock violates the First Amendment," the judge ruled, meaning Idaho officials might be barred from going after demonstrators in the future engaged in politically-focused protests outside the capitol or other state property.
"This has been a long and costly battle over liberties that the State should treasure, not suppress," American Civil Liberties Union Legal Director Ritchie Eppink wrote in an official statement this week. "Let's hope this permanent injunction gets our elected officials to stop and think, and to start welcoming dissent, rather than trying to squelch it."
"They may restore the tent city. The point is, the court found Occupy Boise was exercising its legal right to protest on state property," he told Reuters.
Judge Winmill's ruling was announced the same week that officials in new York City agreed to pay almost a total of $600,000 to settle a lawsuit related to the wrongful arrests of 14 protesters at the original Occupy Wall Street encampment in Lower Manhattan.
You can share this story on social media: