Gunman and victim dead following school shooting in Oregon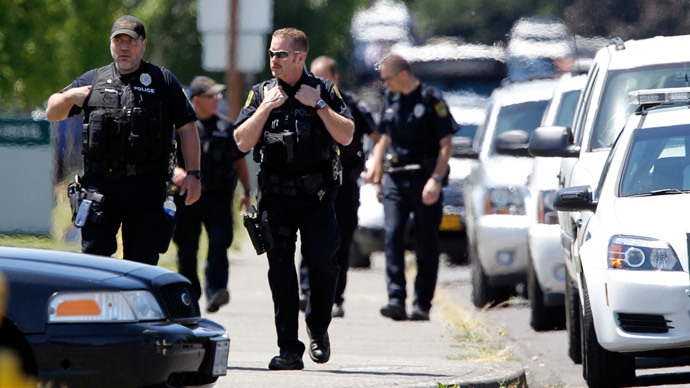 A suspected gunman and one victim are both dead after shots were fired at a high school in Troutdale, Oregon early Tuesday.
Police responded to reports that shots were fired at Reynolds High School at 8:07 a.m. local time as the situation unfolded in the small town around 16 miles east of Portland, OR. Seventy minutes later, local news networks reported that the Multnomah County Sheriff Office's had confirmed the shooter was dead and the situation stabilized.
The scene outside of Reynolds High School. pic.twitter.com/pna4xQuSbc

— Kyle Iboshi (@KyleIboshi) June 10, 2014
At 10 a.m. local time, Troutdale Police Department Chief Scott Anderson said at the first televised press conference to follow the incident that the shooter entered the school and fatally shot one student before being neutralized.
"A gunman entered the high school this morning, shot one student. Unfortunately, that student has died," said Anderson.
"Today is a very tragic day."
The shooting victim was later identified by authorities as a 14-year-old student, who was killed in the boys' locker room.
Students walking in line behind Reynolds HS after reported shooting pic.twitter.com/c5MBfzHjdK

— Kyle Iboshi (@KyleIboshi) June 10, 2014
Reynolds was put on lockdown immediately after shots were first fired, though some students were soon after evacuated from the building, according to local network KOIN News.
Police believe the teenage gunman likely killed himself. The suspect was found slumped over a toilet in a bathroom, according to AP.
A second individual was found to be in possession of a firearm and taken into custody during the evacuation of the school, though police do not believe that gun to be related to the shooting.
Troutdale had a population of roughly 16,000 as of the 2010 census, and is situated just south of the state's border with Washington. Around 2,800 students were enrolled at the school during the 2008-2009 academic year, and the school is presently the second-largest high school in the state, according to Troutdale Mayor Doug Daoust.
Video: Police racing to Reynolds HS http://t.co/N15LAwed4V

— Kyle Iboshi (@KyleIboshi) June 10, 2014
You can share this story on social media: