Oregon man lives inside retired Boeing 727 jet (PHOTOS, VIDEO)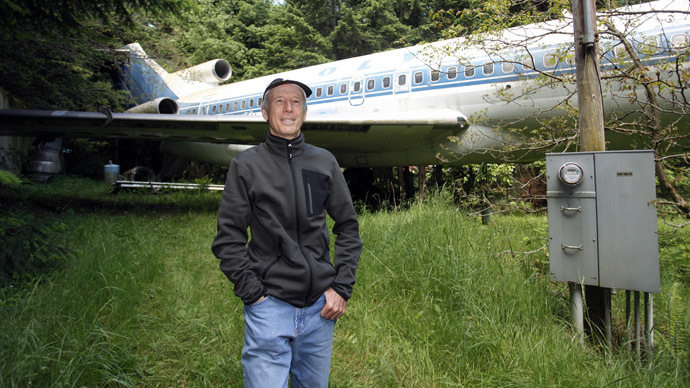 A former electrical engineer from Portland, Oregon maintains a residence six months out of the year inside of a home that is far from plain — yet all too "plane" at the same time.
Bruce Campbell, 64, has been living in a Boeing 727 jet since 1999, when he acquired the aircraft and dumped it on a 10-acre lot of land he owned in the Pacific Northwest city.
During the last 15 years, Campbell has spent around $218,000 restoring the aircraft to make it into a rather unusual residence, to say the least: in addition to the cockpit and landing gears, the jet now contains a makeshift sleeping space and a kitchen area complete with microwave and toaster.
Half of the year, Campbell lives in the jet and sleeps on a futon situated only a few feet away from the cockpit door.
"The cabin and cockpit combination provide 1,066 square feet of exhilarating aerospace quality," he writes on his website.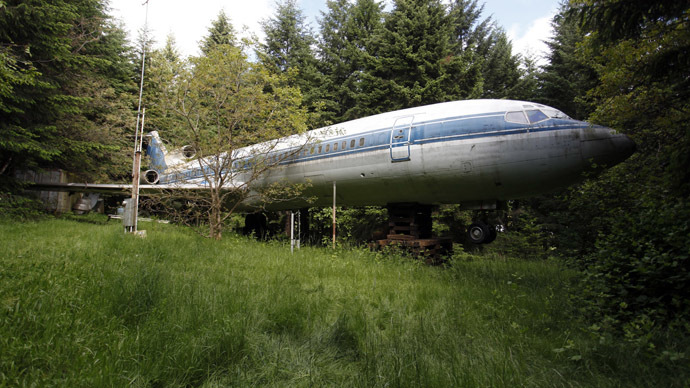 Campbell isn't exaggerating, though. On his homepage, he explains why he opted to make his home in an aircraft instead of a more traditional structure.
"I don't mean to offend, but wood is in my view a terrible building material. It biodegrades - it's termite chow. And microbe (rot) chow. Or it's firewood. It just depends upon which happens first. It's a relatively weak material, and it's secured with low tech fasteners using low tech techniques. And traditional rectangular designs are inferior structurally - they unreasonably sacrifice strength for boxy ergonomics," he says.
"But retired airliners," on the other hand, "are profoundly well designed, high tech, aerospace quality sealed pressure canisters that can withstand 575 mph winds and seven G acceleration forces with ease."
They "could last for centuries," Campbell says, are highly fire resistant and provide superior security.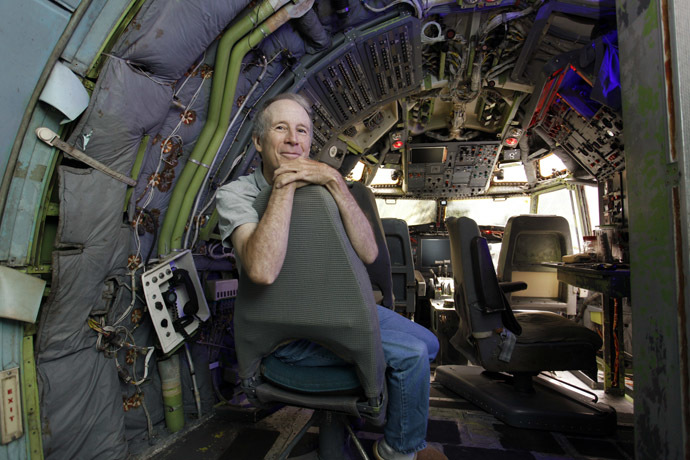 "They're among the finest structures that mankind has ever built," he says, and it's a shame that they're usually just turned into scrap.
"To me it makes no sense at all to destroy the finest structures available and then turn around and build homes out of materials which are fundamentally little better than pressed cardboard, using ancient and inferior design and building methods."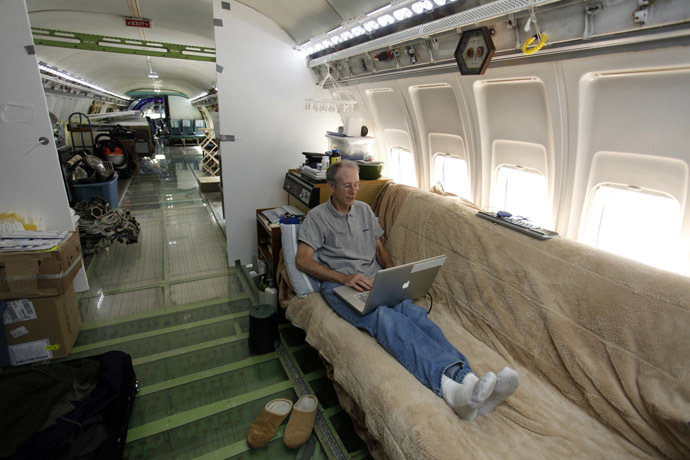 Not to mention, of course, the sheer novelty. "It's a great toy. Trick doors, trick floors. Hatches here, latches there, clever gadgets everywhere. Cool interior lights, awesome exterior lights, sleek gleaming appearance, titanium ducts, Star Trek movies [in[ a Star Trek like setting," he writes. "It's a constant exploratory adventure, ever entertaining, providing fundamental sustenance for a[n] old technology nerd like me. Having lots of little toys is very fulfilling. Having lots of little toys enclosed in a very big toy is nirvana."
Speaking to Reuters recently, Campbell said continuing this long-running project is a personal goal of his. "Mine is to change humanity's behavior in this little niche," he told the newswire.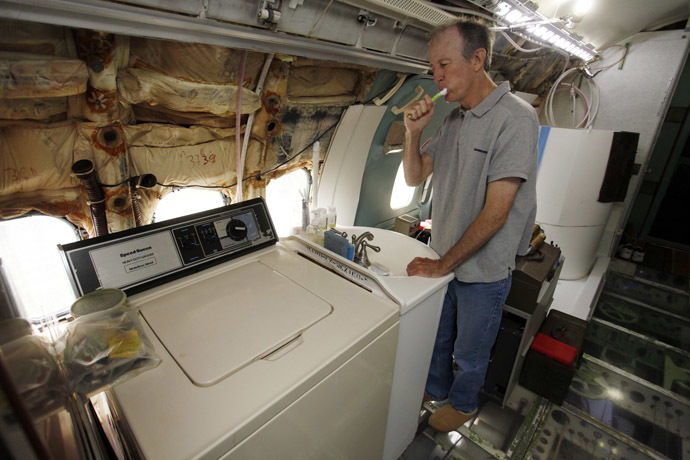 Campbell could soon have some company, though. Reuters reported that 1,200 to 1,800 aircraft will be dismantled around the world over the next three years, opening up the possibility for others to follow in his footsteps.
"AFRA is happy to see aircraft fuselages re-purposed in a range of creative ways," Martin Todd,a spokesman for the Aircraft Fleet Recycling Association, told Reuters. "We would want them to be recovered and be re-used in an environmentally sustainable fashion."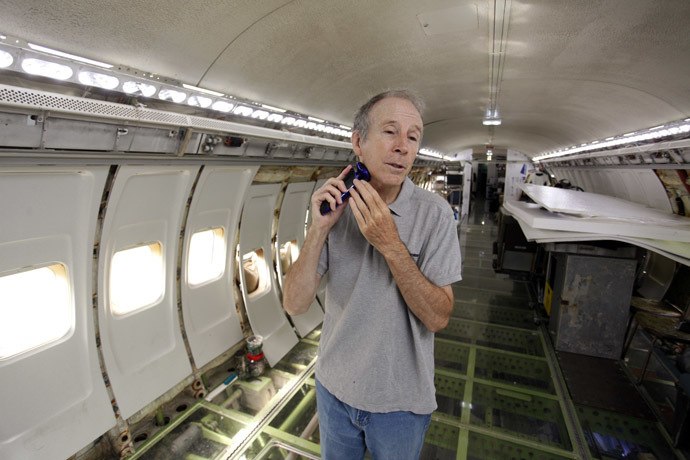 The AFRA was unable to provide Reuters with statistics pertaining to how many others have turned airliners into homes like Campbell has been doing for a decade-and-a-half, but the former engineer might soon be ready to try another endeavor on his own: according to Reuters, he has expressed plans in modifying an even larger jet, a Boeing 747, and turning it into a home in Japan.