Hershey's unamused by 'Reefer's Cups,' sues for trademark infringement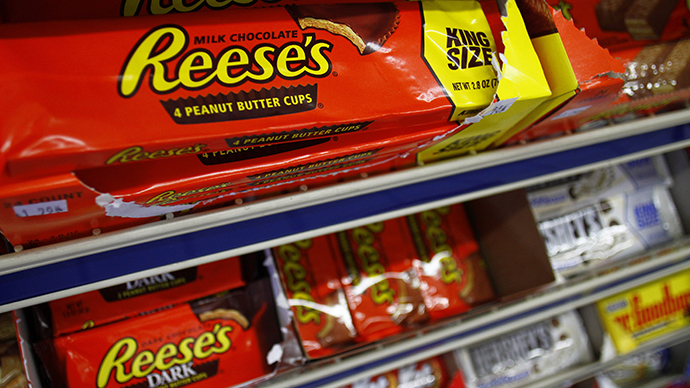 Chocolate maker Hershey is taking on the makers of Reefer's Cups, claiming the packaging is too similar to Reese's Cups. The company is suing two companies for trademark infringement and dilution over the names of their pot-infused candy bars.
The Hershey Co., the makers of iconic American candies like Reese's Peanut Butter Cups, Almond Joy and Mr. Goodbar, says that knockoffs laced with marijuana made by companies in both Washington and Colorado - states where pot is now legal - have "tarnished" the candy company's ubiquitous brands.
Conscious Care Cooperative, a Seattle-based nonprofit medical marijuana dispensary, produces Mr. Dankbar, a chocolate bar that uses packaging similar to Mr. Goodbar's, and Reefer's Cups, which uses packaging similar to Reese's Peanut Butter Cups, Hershey's said in its federal lawsuit against the Washington co-op.
#Seattle_Dispensary Sued by Hershey's Over #Mr_Dankbar and #Reefer_Cuphttp://t.co/SUZtA8mg6ypic.twitter.com/rkt7qQoYmZ

— Monterey Bud (@MontereyBud) June 6, 2014
The largest producer of chocolate in North America is separately suing TinctureBelle, based in Pueblo West, Colo., which sells Hashees (also similar to peanut butter cups), Ganja Joy (a take on Almond Joy) and Hasheath (a riff on Heath Bar Crunch), the Denver Business Journal reported.
Does this #marijuana edible look familiar to you? Yep...it did to #Hersheypa too...http://t.co/dgXEIIwfeTpic.twitter.com/VgQBn0IgBD

— Denver Biz Journal (@denbizjournal) June 6, 2014
"The Hershey Company's trademarks are iconic and among our company's most important assets. They are recognized by consumers around the world, and our company has spent as many as 120 years building the trust and equity in these iconic brands," Jeff Beckman, a spokesman for Hershey's, told KIRO.
"Consumers depend on our brand names to represent a level of quality and dependability. These entities have used Hershey's trademarks, without authorization, to trade on Hershey's goodwill and reputation, and to draw greater attention to their products; these unauthorized uses of Hershey's trademarks also make the products more appealing to children."
The chocolate company based in Hershey, Penn. wants the two companies to stop selling the products in question, destroy any remaining inventory, to correct their advertising, to recall all existing products in question and to pay damages and attorney's fees.
A Conscious Care employee implied the pot dispensary was not responsible for the products, but that a vendor she couldn't identify was. "It's not even our product, it's just something that we carry," the employee said to Raw Story. "So it's a vendor, it's not even us."
Conscious Care Cooperative riffs on other logos as well: The logos on the doors resemble that of the Seattle Sonics, the city's former basketball team, while an online logo resembles that of the Sounders FC soccer club, KIRO reported.
"I think it's just a simple market strategy - mimicking brands that are pre-existing," Vivian McPeak, the executive director of Seattle Hempfest, told KOMO.
"Does the customer really believe Hershey is making marijuana-laced candy? I don't think so," Robin Feldman, an intellectual property law professor at the University of California at San Francisco, told ABC News in 2007. She was referring to a lawsuit filed then against California company Beyond Bomb for selling pot-laced candies at medical marijuana dispensaries with names like Rasta Reese's, Keef Kat, Puff-A-Mint Pattie and Stoney Rancher. (The products were quickly removed from the market, according to the Candy Professor blog.)
"But now you're associating illegal drugs with the Hershey mark. You're thinking about bad things, illegal things, things that will harm your body when you think of the Hershey mark, and that is terribly damaging to the company and its mark," Feldman continued.
And that is why Hershey's is going after the two companies now. "We have always vigorously protected our brands and will continue to do so whenever we believe that others have infringed on these valuable intellectual assets," Beckman said.
The lawsuits come mere weeks after Colorado passed a law in late May that increases the state's regulatory oversight on edible and concentrated forms of cannabis, after safety concerns following two deaths with possible links to pot-based food. Signed into power by Governor John Hickenlooper, the law says products that contain marijuana must be easily distinguishable from regular foods.
It is unclear whether the TinctureBelle products would be in violation of the Mile High State's new regulations. Washington's only current labelling regulations concern the serving size of edible marijuana products, according to the Associated Press.