George Martin is ready to kill you for $20k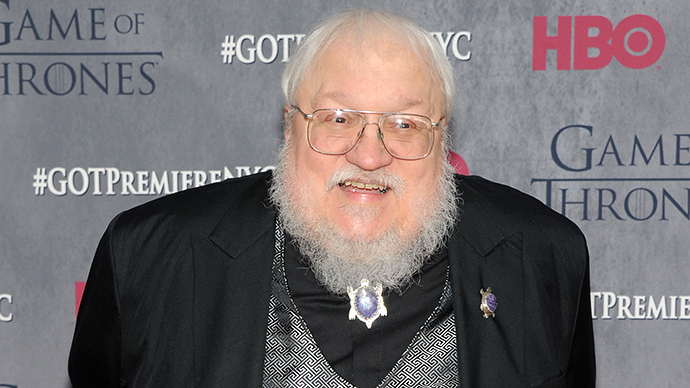 A new offer is available for fans of the Game of Thrones series, and it's simply to die for. GoT author George RR Martin is raising money for charity, and for $20,000 he'll write you in — and kill you off — in a future book.
The 65-year-old writer announced this week that he's raising donations for the Wild Spirit Wolf Sanctuary in Candy Kitchen, New Mexico, and the top award offered on his crowdfunding site is letting fans get involved with his smash series like never before.
"If you make a small donation to my campaign, you will automatically be entered to win an incredible experience," Martin wrote. "You and a friend will be flown out (from wherever you are in the world) to meet me in Santa Fé, where we'll share a helicopter ride to the Wild Spirit Wolf Sanctuary."

"In addition to touring the Sanctuary together, we'll also have plenty of time to discuss the show, A Song of Ice and Fire, direwolves - and if there's anything you have ever wanted to ask me, here's your chance!"
Those with a bit more cash on hand, however, have another, more morbid option: death. For $20,000, Martin will give the donor 4,000 entries into the sanctuary trip contest, but the fun doesn't stop there.
"At this level, you'll get the incredibly exclusive opportunity to have George name a character after you in a future A Song of Ice and Fire novel. There is one male character and one female character available. You can choose your character's station in the world (lordling, knight, peasant, whore, lady, maester, septon, anything) and you will certainly meet a grisly death!" reads a message on his campaign site.
Yes, for 20 grand the award-winning author will allow two lucky fans to be immortalized in one of two forthcoming GoT installments, only to be killed off just as quickly.
Those less adventurous fans are offered other options as well: a donation of $4,500 yields a script of the first episode of the GoT television series, $7,500 returns a pair of tickets to the Season 5 premiere and 15 grand is enough to get your own breakfast with the author later this year.
"I've always been fond of wolves... direwolves in Westeros, and real wolves in the real world. US wolf populations hit critical lows during the twentieth century, and finding a way for humans to co-exist with this majestic creatures is an important part of the conservation movement," Martin wrote.
You can share this story on social media: