Seattle cop who stomped on handcuffed man's head cleared of wrongdoing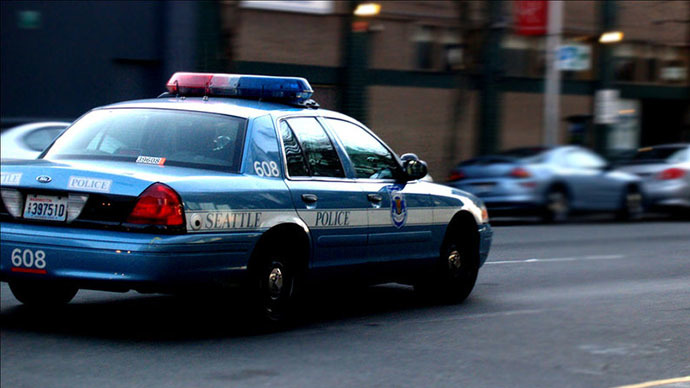 Despite the existence of video evidence clearly showing Seattle, Washington cop Garth Haynes stomping on the head of a handcuffed man during a 2010 ordeal, the officer was formally cleared of all misconduct this week.
Upon advisement of the Seattle City Attorney's Office, the local police department's interim chief, Harry Bailey, said on Tuesday that Haynes has been exonerated of his involvement in the Dec. 2010 incident.
Chief Bailey said that expert evidence presented to officials has left him willing to accept the claim that Haynes "was impaired by a concussion and not able to control his actions when he stepped on the suspect's head" outside of a Ballard, WA bar three-and-a-half years ago.
The incident itself occurred on Dec. 12, 2012 when Haynes — off-duty and out of uniform — intervened in what he believed to have been a theft-in-progress.
Haynes believed a woman at the bar had tried to take his jacket, Seattle City Attorney Peter S. Holmes acknowledged in a memorandum filed with Chief Bailey's office last week, then flashed his badge and tried to resolve the matter while off the clock.
"Bystanders became involved in the dispute which escalated to a fistfight primarily involving Officer Haynes and three young male assailants," the memo continues. "SPD officers responded to the scene, extricated Officer Haynes form the melee and subdued the three suspects. As one of the suspects lay face down in handcuffs, in-car video showed Officer Haynes press the suspect's head down with his foot before being led away by an officer."
Haynes was then taken to a local hospital and eventually charged with assault, but was later acquitted in court.
"We went to trial with the evidence available at the time, which included an in-car video that showed Officer Haynes stepping on the head of a handcuffed man prone on the ground," Kimberly Mills, a spokesperson for Holmes, told the Seattle Times.
"It was unfortunate and sad it had to go all this way, and all this time and money, but I'm glad it's finally over," Haynes told KIRO-TV when he was found not guilty 2012.
According to the network, the Seattle Police Union at one point described the fight as a hate crime against Haynes, who is black, carried out by white bar patrons. Charges against them were later dropped.
"This was an officer that was beat up by three white guys," longtime activist Harriett Walden, who sat through the trial, told KIRO in 2012. "Did he make a poor judgment? Yes, he did. Does he need to be fired for that? No, he shouldn't be. He should be reprimanded and retrained like all the other officers."
Indeed, the SPD issued a 10-day suspension without pay against Hayes after he was found not guilty, but appealed that slap on the wrist nevertheless. A city doctor would later file a report saying "It is possible that the concussion could account for Officer Haynes' behavior in the immediate aftermath of the incident," urging officials to remove details about the reprimand from the cop's record.
After Chief Bailey was sent the report last week, on Tuesday he said Haynes would be fully cleared.
"Following the recommendation of the Seattle City Attorney's Office, Seattle Police Chief Harry Bailey has cleared an SPD officer in a 2010 misconduct case, in which the officer was involved in an off-duty altercation outside a Ballard bar," the city said in a statement this week.
"I'm glad to see that the city attorney's office had an ah-ha moment and realized, and in fact agreed with, what we've said all along, that Officer Haynes was the victim of a racially motivated beatdown," Seattle Police Officers Guild President Ron Smith told KOMO News this week.
Others, however, have a difference of opinion.
"I think there are significant questions where an officer is claiming a concussion caused him to be confused and lack the ability to control his actions when he's stomping on the head of a hand-cuffed suspect he's upset with," Seattle lawyer Tim Leary told KOMO. "I think there are significant questions where an officer is claiming a concussion caused him to be confused and lack the ability to control his actions when he's stomping on the head of a hand-cuffed suspect he's upset with."
Ed Murray, the mayor of Seattle, added that he would not challenge the decision, but would review departmental policy.
"We have a complaint process, an appeals process, and a punishment process that is broken," Murray told reporters.
Late last month, more than 125 SPD officers filed a lawsuit in federal court against the United States Justice Department and city officials, the Times reported, in which the cops complained that new rules that prohibit the police from using as much force as previously allowed was endangering the safety of law enforcement personnel.
"The [use of force' policies and practices unreasonably restrict and burden plaintiffs right to use force reasonably required, to protect themselves and others, from apparent harm and danger in violation of the Second, Fourth, Fifth and Fourteenth Amendments of the Constitution," it reads in part.
"The new UF policies and practices require — without appropriate consideration of an officer's knowledge, training, experience, or the apparent danger of the circumstances confronting him or her — that Plaintiffs use significantly less force than is being threatened against them by suspects."