More jets and warships: US increasing military presence in Black Sea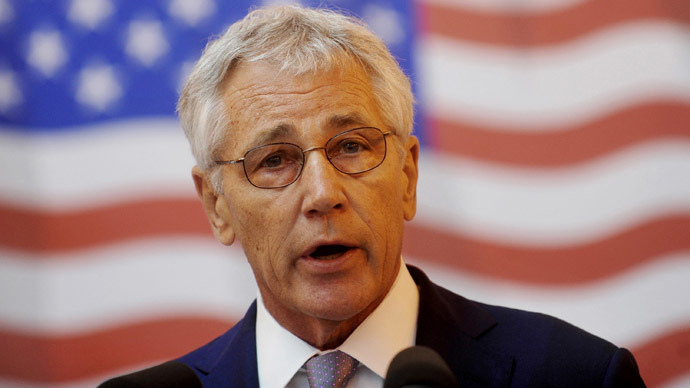 Following President Obama's commitment of $1 billion to expand NATO's role in Eastern Europe, Defense Secretary Chuck Hagel announced on Thursday that the United States will be bolstering its presence in the Black Sea region.
Hagel is currently swinging through Romania, a NATO member that has urged the US to increase its presence in Eastern Europe in the wake of the Ukraine conflict and Russia's accession of Crimea. Since then, the country has been a part of joint military exercises with American forces and has promised to increase its own defense spending.
According to Reuters, Hagel said President Obama's $1 billion fund would allow for a "stronger presence of U.S. ships in the Black Sea," and that the plan would mean a consistent stream of rotating vessels in the region.
"We will sustain that tempo going forward," he added.
At the time of Hagel's comments, he was touring a guided missile cruiser, the US Navy's Vella Gulf, which has been stationed in the Black Sea for about two weeks. It is the fourth American ship to move through the region since tensions with Russia increased, with the US hoping its deployment reassures European allies regarding its obligation to defend them.
Hagel also met with Romanian Defense Minister Mircea Dusa, who agreed "the ongoing U.S. ship presence increases the area's sense of security."
MT @lbaldor: SecDef says ongoing US ship presence in Black Sea shows US commitment to the region pic.twitter.com/6uOwoRiEfF@NAVEUR_NAVAF

— U.S. Navy (@USNavy) June 5, 2014
"The Vella Gulf is a clear representation of America's commitment to security in the region," Hagel said, according to the AP.
The comments come just one day after Obama spoke in Poland and pledged $1 billion to expand its military role in Eastern Europe. As RT reported, the president said more troops would begin rotating through the region, and that the US would help fund and train military forces of NATO allies.
"Given the situation in Ukraine right now, we have also increased our American presence. We've begun rotating additional ground troops and F-16 aircraft into Poland... to help our forces support NATO air missions," Obama said, calling the commitment to NATO allies in Europe "the cornerstone of our own security."
While the plan earned the praise of Polish President Bronislaw Komorowski, Russia criticized NATO for boosting its presence near its borders and argued the group is also responsible for unrest in Ukraine.
"NATO is providing Kiev – a member of its Partnership for Peace program – with technical assistance, thus encouraging the prolongation of its use of force. Thus the Alliance accepts a part of the responsibility for the escalation of the situation, and the collapse of diplomatic negotiations," said Aleksandr Grushko, Russia's envoy to NATO.
You can share this story on social media: