Company promises to start mass producing flying cars by 2016 (VIDEO)
Published time: 4 Jun, 2014 20:24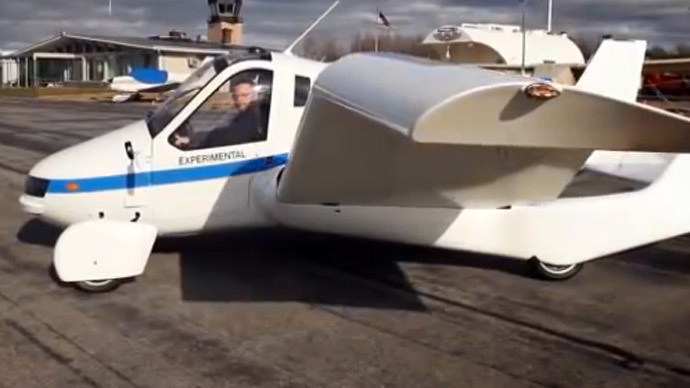 The inventors of a flying car say they are only two years away and a few million dollars short of having their product ready for the public.
According to the Boston Business Journal, the CEO of Woburn, Massachusetts manufacturer Terrafugia said this week that he's narrowing in on having a car/plane hybrid that's been long in the works ready to be released in mid-2016.
Speaking to the Journal, CEO Carl Dietrich acknowledged that he has already received 100 pre-orders for the vehicle — each costing roughly $279,000 — and plans on being able to fulfill those requests within the next two years.
So far, Dietrich said, he's received nearly $13 million from angel investors, which helped fund the creation of a prototype of his Transition vehicle. Last year, Dietrich successfully demonstrated that the Transition is ready for both the open road and open sky.
On Terrafugia's website, the Transition is touted as "the transportation of the future today."
"A street-legal airplane that converts between flying and driving modes in under a minute, the Transition brings a new level of freedom, flexibility and fun to personal aviation," the site claims. "It gives the pilot the option to land and drive in bad weather, provides integrated ground transportation on both ends of the flight, and fits in a standard single car garage at home."
According to the website, the Transition is totally street legal and able to fly in and out of at least 5,000 public airports in the United States. Even with a successful prototype behind him, though, Dietrich says he's still coming up short of the funds necessary to take his project to the next level.
By his estimate, it'll take another $30 million to start production on the Transition, he told the Journal. In the meantime he shows no signs of slowing down, however, and just last month brought on Alex Min, the former vice president of business development at Textron Defense Systems, as Terrafugia's chief marketing and sales officer.
"Min's main task in the coming months will be secure more capital for the company, which has about two-dozen employees and will most likely hire more in the coming years as it ramps up for production," Journal tech editor David Harris wrote on Tuesday this week.
"It's a very exciting time for the company right now," Dietrich told Harris. "We really do see Terrafugia as the next Tesla."
"Many were promised a flying car when they were younger and now they can get one," DIetrich said.
A second flying vehicle, the TF-X, is currently in its conceptual design phase, the Journal reported, but Terrafugia hopes that in around a decade customers will be able to buy that craft and soar through the sky at speeds of up to 200 miles per hour.