'Is it necessary to torture me?' Gitmo prisoner demands 'civilized' force-feeding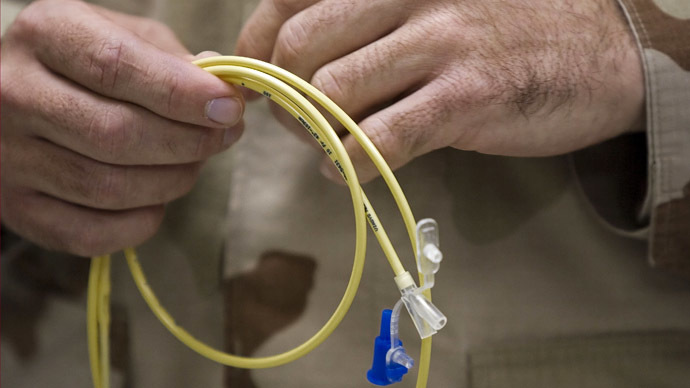 A Syrian national imprisoned in Guantanamo Bay detention facility petitioned to stop his excruciating force-feeding, and demanded "civilized" forced ingestion after a "really evil" new team of guards roughly stuck tubes into his nose.
Protests against indefinite detention of Guantanamo inmates.
US President Barack Obama has failed to deliver his promises to close down prison at the US naval base in Guantanamo Bay, Cuba, for two consecutive terms. Consequently, protests against torture practices in the detention facility continue.
Inside Guantanamo many remaining prisoners continue hunger strikes after spending over a decade behind bars without a trial.
One prisoner, Syrian national Abu Wa'el Dhiab, has petitioned a US District Court in Washington through his lawyer, attorney Jon Eisenberg, demanding "civilized" force-feeding, reports Reuters.
"Is it necessary for them to torture me? Is it necessary for them to choke me every day with the tube? Is it necessary for them to make my throat so swollen every day? Do I have to suffer every day?" the prisoner asked his lawyer during a phone talk on June 1, as quoted by Eisenberg.
"I am willing to be force-fed in a humane manner," the attorney quoted his client, insisting that the chosen method of forced enteral feeding is "illegal and abusive."
Back in May US District Judge Gladys Kessler ordered that her previous temporary restraining order to stop forcibly feeding Syrian Abu Wa'el Dhiab will not be reissued, due to the prisoner's physical condition "swiftly deteriorating" due to a hunger strike.
Dhiab told his lawyer that he's now being fed by a new team of guards, who are "really evil," as they pull prisoners out of their cells, restrain them and push feeding tubes up their nostrils.
During the procedures of artificial feeding on May 29 and May 30, he was "harshly choked," maintained Dhiab, reporting of nosebleeds and pain in his kidneys because of the force-feeding.
"I thought they would choke me to death because they were handling me so roughly," Dhiab was quoted in the petition.
Dhiab believes that "unless there is a very firm and clear order from the judge" there will be no change and force-feeding procedures would remain inhumane.
So far months of hunger strike at Guantanamo Bay prison have brought prisoners no gains but for the right to challenge the force-feeding practices in the in US courts that was allowed back in February.
In May, for the first time since Guantanamo Bay prison opening 12 years ago, a federal court intervened in proceedings at the Guantanamo detention facility, ordering the US to supply videos showing the force-feeding of a Syrian hunger-striker.
You can share this story on social media: