California drive-by shootings leave seven dead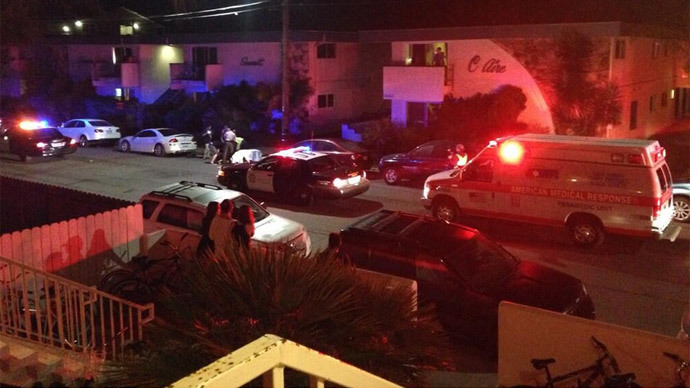 Seven people, including the gunman, have been killed after a spate of drive-by shootings terrorized the residents of Isla Vista near the University of California, Santa Barbara. Several others were wounded in the rampage.
Santa Barbara County Sheriff Bill Brown confirmed told a news conference early Saturday that seven people were killed, including the gunman, and another seven wounded.
Brown said the suspect exchanged gunfire with deputies before speeding away in a BMW and crashing into a parked car.
Police found the suspect inside the vehicle dead from a gunshot wound to the head. But the sheriff said it had not been determined if the suspect was shot and killed by police or if the wound was self-inflicted. A semiautomatic handgun was recovered from the scene.
Investigators are attempting to piece together what sparked the shooting.
Brown said there were a total of nine crime scenes cordoned off for forensic work.
Witnesses described the occupants of a black BMW as involved in the seemingly random shootings in this college town early Saturday morning.
The victims include an individual who was shot dead inside a deli, while another fatality occurred near a 7-11 convenience store.
Kelly Hoover, public information officer with the Sheriff's office, confirmed that a second suspect has been apprehended.

"We can't confirm this is a secure location. If you're in Isla Vista, please shelter in place. If you're thinking about coming here, please do not," said Hoover.

Hoover said resources were pouring into the neighborhood from all over the county to help with the investigation.

NewsChannel 3 senior reporter John Palminteri described the situation as it was happening via phone: "It is a horrible scene out here."

Palminteri said a black BMW had slammed into as many as two cars, and a body covered with a yellow tarp was lying in the road. He reported the deceased, one of the possible gunmen, may have been shot by a police officer.

One woman, identified as Sierra, told NewsChannel 3 that she was approached by two men in a black BMW. The driver waved a small handgun and asked, '"Hey, what's up?"'

Sierra said she thought it was a fake gun and continued walking. Seconds later, she could hear real bullets whistling past her.

She managed to escape unharmed into a nearby home filled with strangers also seeking safety.

TV footage showed ambulances and police cruisers swarming the area.

The Daily Nexus, a university newspaper on campus, quoted a witness who said the BMW struck several pedestrians in the ensuing mayhem.
You can share this story on social media: