Fox News anchor arrested after leaving rehab and stuffing himself with vodka and pills
Published time: 23 May, 2014 15:35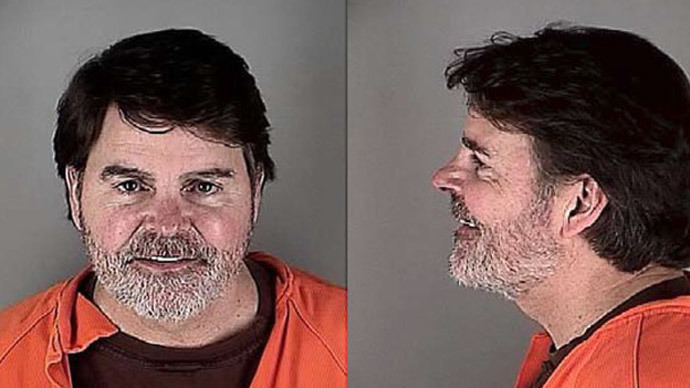 Police in Minnesota recently arrested a Fox News anchor who had left rehab and reportedly got drunk at the Minneapolis-St. Paul International Airport, possibly taking a pill that didn't mix well with alcohol.
According to the Associated Press, the incident occurred on Wednesday, when an employee at the airport's Northern Lights Grill phoned police to help deal with 59-year-old Gregg Jarrett, who was allegedly "acting very intoxicated." When officers arrived around 12:30 p.m., they said Jarrett could barely sit up straight, and was using the bar for support.
It only took one drink for Jarrett to become intoxicated, the employee told police, and the news anchor reportedly told another customer he'd taken medication ahead of his flight. Although Jarrett denied taking any pills when asked – he did admit he had been drinking vodka since 9 a.m. – police found gabapentin in his pocket after taking him into custody.
As noted by USA Today, the US National Library of Medicine classifies gabapentin as an anticonvulsant, which is used to treat a variety of disorders, including epilepsy. Side effects of taking the drug include "strange and unusual thoughts" as well as drowsiness, the latter of which can be made worse by drinking alcohol. The drug can also potentially lead an individual to have suicidal thoughts or exhibit "aggressive, angry, or violent behavior.
Speaking with the AP, drug expert Carol Falkowski explained that it's not easy for someone to kick bad habits once they've become dependent on them.
"Most people with addiction struggle their whole lives with it," Falkowski said. "People under the influence of alcohol do things they wouldn't ordinarily do. Other prescription medications only make it worse."
Once in custody, police discovered that Jarrett had just been released from an alcohol and chemical dependency rehabilitation clinic. At some point, the broadcaster reportedly became "agitated" and physically struggled with police, requiring more than one officer to handcuff him.
According to the Daily Mail, Jarrett did not have a prescription for the drugs in his pocket, and screamed, "This is your fault" at his arresting officer when he was being evaluated by a doctor. Jarrett also allegedly yelled, "F*** you" at police before they decided to detain him.
Local NBC affiliate KARE 11 News reported that Jarrett was charged with a misdemeanor for interfering with a peace officer. He posted a $300 bail and was released around 1:30 a.m. on Thursday.
Jarrett has not been on the air since mid-April, when he was noticeably slurring his words during a news segment and left early in his shift. A recent report by TV Newser stated that Jarrett "requested time off for personal reasons" in May, and a Fox News spokeswoman added it's unclear when the broadcaster would return.
"We were made aware late last night that Gregg Jarrett was arrested in Minneapolis yesterday and charged with a misdemeanor," read a statement by the media outlet, according to KARE 11. "He is dealing with serious personal issues at this time. A date at which Gregg might return to air has yet to be determined."
Jarrett is scheduled to appear in court on June 6.