Former 'Satan-obsessed' TSA agent who made LAX threats ruled incompetent for trial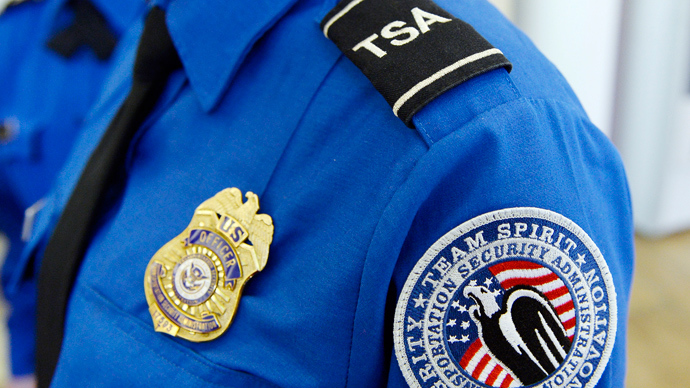 A former Transportation Security Agency security screener isn't mentally competent to stand trial for making threats on the eve of the 12th anniversary of the 9/11 terror attacks, a judge ruled Monday.
Nna Alpha Onuoha was arrested last September for making terrorist threats at an airport. Onuoha resigned from the TSA earlier Tuesday, Sept. 10, after more than six years of employment as a security screener at Los Angeles International Airport. After walking away from his TSA gig, Onuoha allegedly phoned in threats to LAX and left a suspicious package at the airport that prompted the Los Angeles Police Department to deploy their bomb squad.
After police addressed the suspicious package at TSA's LAX headquarters, a man believed to be Onuoha dialed up the airport and demanded that employees "begin evacuating certain terminals." According to the local NBC affiliate, he then warned an agent on the other end of the line that he would "be watching" to see if they followed his orders. The airport was evacuated, but the LAPD did not find any evidence suggesting an attack was imminent.
The package left at TSA headquarters — addressed to a former co-worker of Onuoha — reportedly contained an eight-page letter critical of the United States and the TSA. An investigation at Onuoha's Inglewood, Calif. residence later in the day turned up a note taped to the inside of his closet that read, "09/11/2013 THERE WILL BE FIRE! FEAR! FEAR! FEAR!" according to a federal affidavit.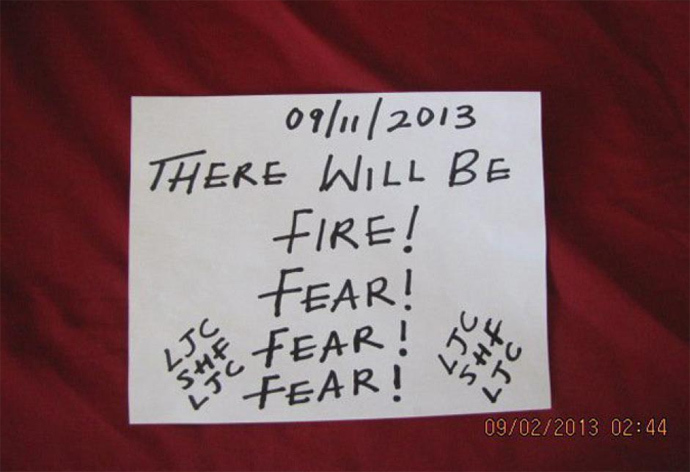 In online letters found after his arrest, Onuoha referred to a recent suspension, which occurred over the summer of 2013 after Los Angeles high school student Sarina Frauenfelder accused him of making inappropriate comments about her apparel as she passed through security, the New York Daily News reported.
"You're only 15, cover yourself," Onuoha allegedly said, according the Daily News, citing a blog post by Frauenfelder's dad, the founder of the popular blog Boing Boing.
According to court documents filed last week, Onuoha sent religious-themed farewell letters to acquaintances. He also contacted Frauenfelder by email, authorities said in those documents.
"Mr. Frauenfelder and his family are in fear for their safety," the email between authorities read, according to the Los Angeles Times, "because as Mr. Frauenfalder [sic] stated, 'if he can get my email, he can get my address'."
The Daily News called the former screener "Satan-obsessed." He was linked to a personal website, www.satanhasfallen.org, that includes rambling writing about evil spirits, Satan and the antichrist.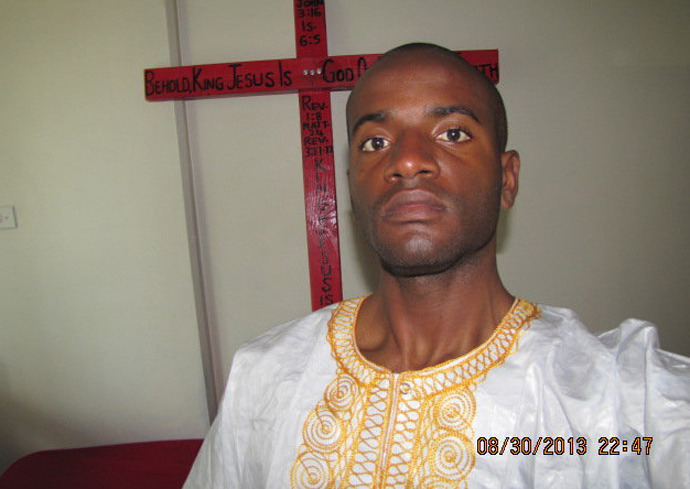 US District Judge Beverly Reid O'Connell found that Nna Alpha Onuoha is "presently suffering from a mental disorder" and isn't competent to stand trial after reviewing a doctor's evaluation and hearing a rambling, incoherent statement from the 30-year-old defendant, according to City News Service.
"God gave me a message and I delivered that message," Onuoha said in his statement to the court. "God is not a disease. I delivered a message to obey God and I was arrested. I shared the message with the world. I gave my testimony to the world."
He will be sent to a mental hospital for treatment, and may be tried at a later date if he is deemed competent then. O'Connell set a status conference for the defendant in October.
At the time of his arrest, Onuoha was unemployed, homeless and $15,000 in debt, prosecutors said.