State Dept. denies US is assisting in assault on anti-Islamists in Libya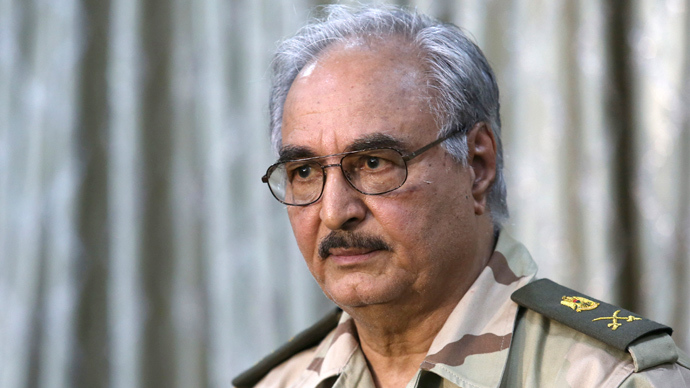 The Department of State distanced itself on Tuesday from allegations that the United States has played a role in recent activity underway in Libya attributed to forces loyal to rogue general Khalifa Haftar.
Two days after a surge of Haftar's men unleashed on Libya's Genera National Congress and four days following an attack by his forces in Benghazi that's been blamed for more than 70 deaths, US State Dept. spokesperson Jen Psaki weighed in on the situation during her daily briefing on Tuesday.
But answering to accusations that the US has played a role in Haftar's recent behavior, Psaki said the State Dept. has not communicated with the senior military official, who previously spent decades in the US before returning to Libya in 2011 to join rebels fighting the regime of then-president Mummar Gaddafi.
"We have not had contact with him recently. We do not condone or support the actions on the ground, nor have we assisted with these actions," Psaki told reporters. "We are continuing to call on all parties to refrain from violence and to seek resolution through peaceful means."
"Western powers fear Haftar's campaign will split the Libyan army, further destabilizing the country, after several units defected to him in recent days," Reuters reported on Tuesday after Psaki made her remarks.
Other sources, however, have speculated that Haftar may be working to a degree on the behalf of the US government — perhaps the Central Intelligence Agency — in an effort to sway volatile Libya in a direction that would favor American policy.
On Monday, Israel's DEBKAfile website reported that military and intelligence sources say that Haftar's militia is being backed by the US and United Arab Emirates, whose support is alleged to include providing those forces with funds, intelligence and, with regards to Abu Dhabi, even weapons.
"How far the Obama administration and UAE Crown Prince Sheikh Mohammed Zayed Al Nahyan actually support Haftar's cause is hard to pin down," reads an excerpt from DEBKAfile's report. "It will most likely depend on how successful he is in his bid to start carving out the shape of stable government rid of Islamist extremists in the northern Libyan region between the two key towns of Tripoli and Benghazi."
Over the weekend, a spokesperson for Gen. Haftar told television channel Alahrar that the recent storming of Libyan parliamentary facilities was carried out in order to arrest Islamists. The Libyan government has officially denounced the force's actions as an attempted "coup," according to a Libyan-based journalist who spoke with the International Business Times on Tuesday.
Decades earlier, Haftar was an officer within Col. Gaddafi's Libyan military fighting in neighboring Chad before switching sides. He later joined the ranks of the opposition and went on to fight the Libyan leader's regime. According to a New York Times report from 1991, around 350 Libyans trained to fight Col. Gaddafi were relocated to the US after efforts then to destabilize the Libyan's leader's regime were unsuccessful. The rebel squad, the Times said, "were trained by American intelligence officials in sabotage and other guerrilla skills, officials said, at a base near Ndjamena, the Chadian capital. The plan to use the exiles fit neatly into the Reagan Administration's eagerness to topple Colonel Qaddafi."
Haftar was the leader of that group — the Libyan National Army, the Washington Post added this week, and eventually came to the US and became an American citizen who lived in the suburbs of DC for roughly 20 years. According to acquaintances, the Haftar family was sufficiently provided for during their stay in the US, although their means of acquiring that wealth was unknown even to friends of the general. In 2011, Haftar returned home to aid in the successful ousting of Col. Gaddafi.
You can share this story on social media: