Coffee prices skyrocket as fungus kills high-end beans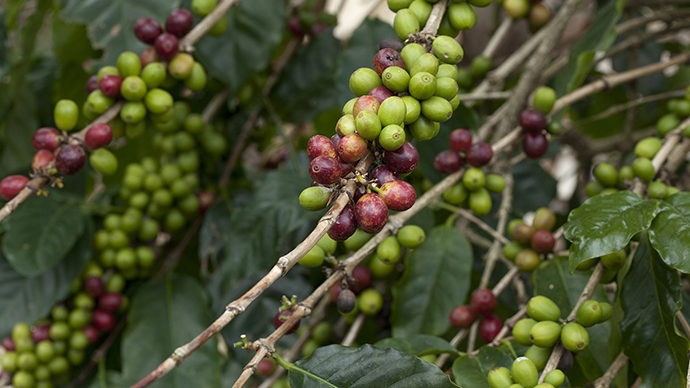 If you've noticed the cost of a cup of coffee at your local shop has been inching up lately, it's because a fungus has decimated Central America's Arabica bean crop. Now the US is stepping in to try to eliminate the deadly coffee rust fungus.
Leaf rust, or la roya in Spanish, is a yellow- and orange-colored, plant-choking fungus that has devastated coffee crops from Peru to Mexico over the past three years, costing $1 billion in damages in Central America in the late harvest season of 2012 alone. The fungus is especially ruinous to the Arabica bean, which is used in higher-end coffees, as it is said to produce better-tasting coffee than the other major commercially grown coffee species. It contains less caffeine but a more robust flavor. Arabica accounts for 75 to 80 percent of the world's coffee production, according to the Coffee Research Institute.
The effects of leaf rust have decimated local economies.

"Big farmers hire fewer workers to pick the ripe coffee cherries that enclose the beans. Smaller farmers go into debt and sell livestock or tools to make up for the lost income. Sales fall at local merchants," the New York Times reported. "Teenagers leave school to work on the farm because their parents can no longer hire outside help. At the very end of the chain are the landless migrant workers who earn just a few dollars a day."
Central America has been particularly hard hit. Four million people there and in southern Mexico rely on coffee for their living, according to the Inter-American Development Bank. In Guatemala, twenty percent of the half-million jobs directly tied to growing coffee have already disappeared, estimated Nils Leporowski, the president of Anacafé, the country's coffee board.
The US Agency for International Development (USAID) has taken note. On Monday, the agency announced a Global Development Alliance partnership with the World Coffee Research center and the Norman Borlaug Institute for International Agriculture, which are both programs within Texas A&M University's AgriLife Research. The $5 million research project will focus on "establishing a higher quality Central American coffee sector through plantation renovation with high quality, disease resistant coffee varieties and a constant pipeline of newer, higher performing varieties," the World Coffee Research statement said.
"Coffee rust threatens more than your morning coffee—it affects jobs, businesses, and the security of millions across the Americas," USAID's Associate Administrator Mark Feierstein said in the agency's statement about the project. "We must tackle this outbreak to ensure farmers and laborers have stable incomes, don't start growing illicit crops, or be forced to migrate because they can no longer support their families. This partnership will tap innovative solutions to address the immediate and long-term impacts of coffee rust and help this key agriculture sector rebound."
Helping coffee farmers rebound doesn't just fight poverty and hunger throughout Latin America. It also helps prevent an increase in violence and drug trafficking, the Associated Press reported. Coffee farms in Latin America are smaller than their Asian counterparts that mass-produce the blander brews that coffee snobs turn their noses up at, such as instant coffee or the cheap stuff in your office coffee pot. But smaller farms means less money coming in, so the farmers often don't have the money to buy fungicides or lack the training to plant in ways to avoid leaf rust contamination.
"There are nights when you cannot sleep, thinking how to pay back the money," Román Lec, a Guatemalan coffee farmer who lost half his crop in 2013, told the Times. He borrowed about $2,000 for fertilizer and fungicide this year, but still lost much of his crop to the deadly fungus.
The researchers studying the coffee leaf rust crisis blame climate change for causing the devastation, which was further exacerbated by the unpreparedness of the sector due to low coffee prices and underscored by the use of older, rust-susceptible varieties, according to World Coffee Research. Higher temperatures in Central America allowed the fungus to thrive at the higher altitudes where much of the region's crop is grown, the according to the Times. Prices for Arabica coffee jumped to a two-year high in the futures market earlier this month, thanks in part to a severe drought in Brazil, the Daily Mail reported. As prices have climbed, the farmers can't afford to replace their aging plants that are more susceptible to la roya.
"Roya has exposed the depth of the social and economic problems in terms of people's vulnerability to the market and to climate change," Peter Loach, the director of aid agency Mercy Corps in Guatemala, said to the Times. "What makes it different and complicated is that it's a slow-onset natural disaster over two to three years."
World Coffee Research said fungicide spraying is essential to protect that viability of coffee production in 2014 and 2015. The center is looking to assist producers in making the best investment decisions in choosing high-quality, pest-resistant varietals for plantation renovation, as well as to create a high-tech breeding program of the best varieties and make them readily available to the producers. Researchers will also focus on collecting coffee production trend data to create a comprehensive analysis of the industry in Central America.
"Supporting the farmer's ability to access information, technology and resources allows them to adapt to these uncertainties and ensures the longevity of our industry's supply chain," said Craig Russell, Starbucks Global Coffee executive vice president. Starbucks even bought a Costa Rican farm for research purposes, AP reported.
Along with USAID and Texas A&M, the research partnership includes coffee research and development institutions from Costa Rica, Honduras, Guatemala, Panama, Dominican Republic and Jamaica (PROMECAFE), the Tropical Agricultural Research and Higher Education Center (CATIE), the USAID's Feed the Future initiative, the French Agricultural Research Centre for International Development (CIRAD) and the Federal University of Viçosa in Brazil. Most of the exploration will be done in Central America, though two biotechnologists will work as post-doctorates at the Texas A&M Institute for Biotechnology and Genomics, and an innovative rust bio-control approach will also be executed with the Federal University of Viçosa and Kew Gardens in London, according to World Coffee Research.
You can share this story on social media: