US judge temporarily halts force-feeding of Guantanamo prisoner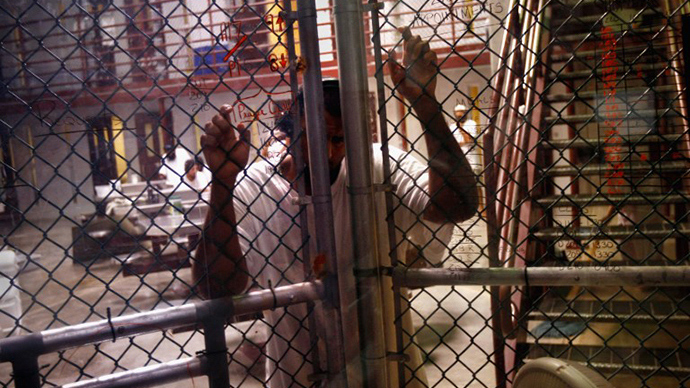 For the first time, a US federal judge has temporarily barred the US military from force-feeding a Guantanamo Bay prisoner on a hunger strike.
US District Court Judge Gladys Kessler ordered the military not to force-feed Syrian national Abu Wa'el Dhiab until the court schedules a hearing for next Wednesday. The decision was based on a petition the prisoner filed to stop the enteral feeding practice.
The order also prevents military personnel from moving Dhiab from his cell to receive sustenance, which is usually done if the prisoner refuses to cooperate.
"Respondents are temporarily restrained from any Forcible Cell Extractions of Petitioner for purposes of enteral feeding and any enteral feeding of Petitioner until May 21, 2014," Kessler said in her order.
Last July, Kessler decided not to consider Dhiab's petition, citing her lack of authority, while at the same time urging US President Barack Obama to address the issue.
The case was reinstated in February by a federal appeals court which ruled that district court judges have the authority to consider such petitions, adding that force-feeding is likely legal if the overall goal is to prevent serious injury or death.
An appellate panel agreed in a 2-1 vote, opening the door for inmates' attorneys to re-challenge their clients' ongoing detainment and any force-feeding practices they endured while protesting their lengthy incarceration.
The prisoners' protest – which began with six hunger strikers in March 2013 – hit a high last summer, with over 100 inmates opting out of meals during most of June and July. The number of prisoners receiving enteral feeds peaked at 46 detainees in the second half of July.
You can share this story on social media: