​White House was embarrassed by 'fawning' 2009 Nobel Prize – Norwegian diplomat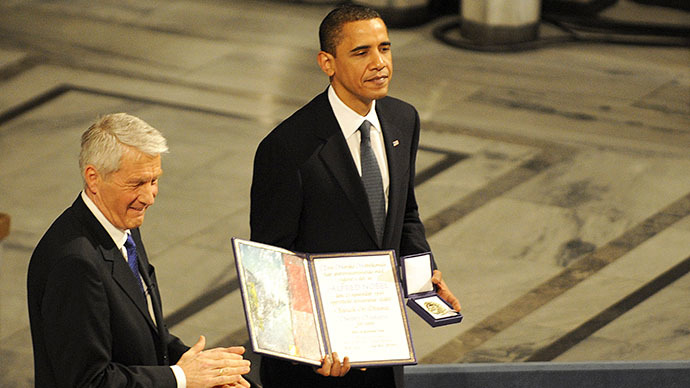 The Obama administration reprimanded Norway after Barack Obama won the 2009 Nobel Peace Prize, saying it was a dubious award for a president who was only one year into his first term, a Norwegian diplomat said on Thursday.
Morten Wetland, who was Norway's United Nations delegate from 2008 to 2012, wrote in an article published in the Norwegian daily Dagens Naeringsliv that the award was not exactly a point of celebration for Obama's young administration.
"My most embarrassing day at the UN, at the time when I was Norway's ambassador there, was when Obama's Nobel peace prize was announced. Nobody was talking about it," said Wetland.
"My colleague in Washington received a reprimand from Obama's chief of staff [Rahm Emanuel, at the time]. The word 'fawning' was used," Wetland added, according to AFP.
Wetland said the award put Obama – who was nominated for the prize only weeks after taking office – in an awkward position.
"An American president wants to set his own agenda. Here he was forced into a role that he hadn't sought," Wetland said. "It could seem like somebody did this to make Obama visit the country."
Obama won the prize "for his extraordinary efforts to strengthen international diplomacy and cooperation between peoples" in October 2009, a time of two lengthy wars in Iraq and Afghanistan, as well as heightened US drone strikes on suspected militants in Pakistan and Yemen.
The five-member Nobel committee has long been the subject of scrutiny for their choices over the years, and for the amount of independence they are afforded. The members make autonomous decisions, though they are appointed by the Norwegian parliament.
Their choices are, at times, considered synonymous with Norway's foreign policy. China froze high-level diplomatic contact with Norway when dissident Liu Xiaobo was awarded the Nobel Prize in 2010.
Wetland and others are now calling for the Nobel committee to be open to foreigners to boost its scope and independent bonafides.
Wegger Stroemmen, Norway's ambassador to the US in 2009, could not be reached for comment, according to AFP.
You can share this story on social media: