Snowden movie one step closer to reality as Sony buys rights to Greenwald book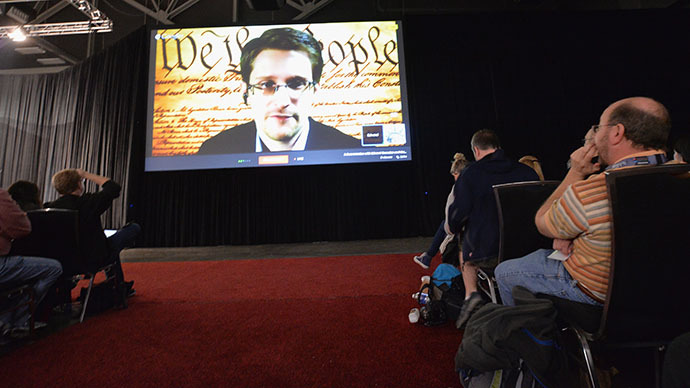 When whistleblower Edward Snowden leaked classified US intelligence documents and fled to Russia, pundits compared the drama to a spy movie. That prediction is now one step closer to reality, with Sony purchasing the rights to Glenn Greenwald's book.
Sony Pictures announced Wednesday that it has optioned the rights to Glenn Greenwald's book 'No Place to Hide: Edward Snowden, the NSA, and the US Surveillance State,' which was published Tuesday. Greenwald's narrative describes how he and a small number of other journalists were first contacted by Snowden before meeting the former National Security Agency contractor at a Hong Kong hotel and going through the trove of classified documents.
Already attached to the project are Michael G. Wilson and Barbara Broccoli, two of the producers behind recent James Bond movies, including 'Skyfall' – the popular spy thriller that grossed more than $1 billion at the box office.
"Edward Snowden's explosive revelations have raised important questions about the role of government in protecting its citizens and the balance between national security and personal freedom," Doug Belgrad, president of Columbia Pictures, said in a press release. "We are extremely proud that Michael, Barbara and Glenn chose Sony to bring this riveting story to the big screen, and believe that Glenn's account of this incredible international event will make for a gripping and unforgettable film."
Sony has been behind many high profile nonfiction stories in recent years, including 'Moneyball' and 'Captain Phillips,' as well as 'The Social Network.' Writer Aaron Sorkin has told reporters that he is currently working on a Steve Jobs biopic that will focus the lens on the rise of Apple, Jobs' NEXT project, and the dominance of the iPod.
Greenwald issued a statement announcing that he is excited that his book will join such company.
"Growing up, I was heavily influenced by political films, and am excited about the opportunity to be part of a political film that will resonate with today's newspapers," he said.
Speculation has already begun as to which actors will play the real-life newsmakers. Matt Wilstein, a writer at Mediaite.com, suggested that Jeremy Renner could star as Snowden, Daniel Craig as Greenwald, and Maggie Gyllenhaal as Laura Poitras – one of the Guardian journalists who joined Greenwald on his trip to Hong Kong. He also said that Mark Ruffalo could play the Washington Posts' Barton Gellman, and Jonathan Banks of 'Breaking Bad' fame could stand in for Director of National Intelligence James Clapper – perhaps because of their uncanny resemblance.
Greenwald refused to name any definite possibilities during an interview with CNN's Jake Tapper.
"The leading names that I've seen are Jared Leto, with whom I'm not really familiar, for Edward Snowden and Edward Norton has been mentioned a lot for me but that's very low on my list of priorities," Greenwald said.
If 'No Place to Hide' is indeed produced, it would mark the first major studio project about Snowden's story.
You can share this story on social media: