US child tobacco farms: 60hrs a week in heat, nicotine exposure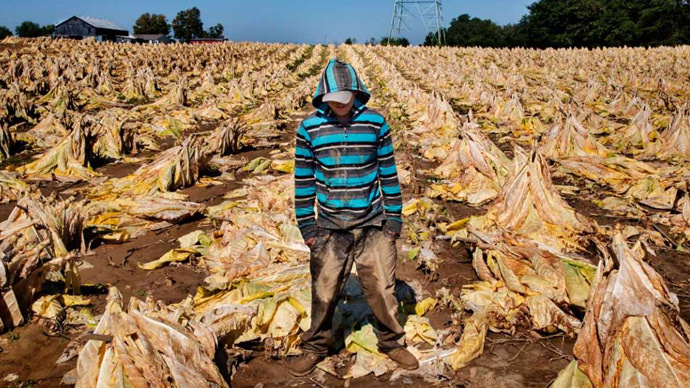 Children as young as seven toil away in sweltering heat, harvesting pesticide-laden tobacco and facing high-volume nicotine exposure in the US south to satisfy the demand of global cigarette manufacturers, a report by the Human Rights Watch reveals.
The 138-page report, 'Tobacco's Hidden Children: Hazardous Child Labor in US Tobacco Farming', gives a startling look of the often perilous conditions in which minors toil away in the United States' tobacco heartland.
The report culls its information from interviews with more than 140 children working the fields in North Carolina, Kentucky, Tennessee and Virginia – where 90 percent of the country's tobacco is grown.
Many of the child workers report frequently getting sick with vomiting, nausea, headaches and dizziness; all of which are symptoms of 'Green tobacco sickness' – acute nicotine poisoning. Working 50-60 hours a week, often without overtime pay and in intense heat, they are also exposed to pesticides known neurotoxins.
"As the school year ends, children are heading into the tobacco fields, where they can't avoid being exposed to dangerous nicotine, without smoking a single cigarette," said Margaret Wurth, children's rights researcher and co-author of the report. "It's no surprise the children exposed to poisons in the tobacco fields are getting sick."
HRW notes that while the long-term effects of nicotine absorption through the skin have not been studied, the side-effects of consuming tobacco products containing nicotine are well documented.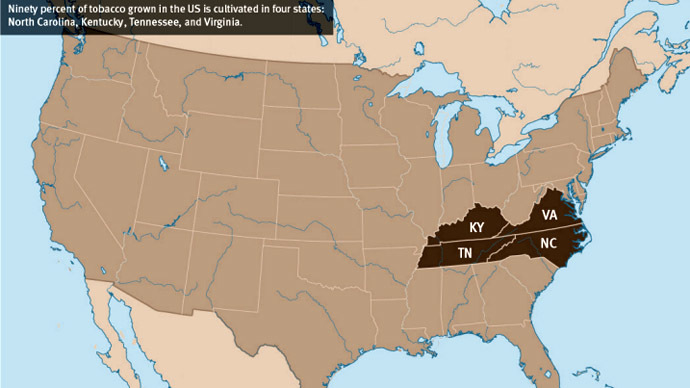 According to the US Surgeon General's most recent report, "The evidence is suggestive that nicotine exposure during adolescence, a critical window for brain development, may have lasting adverse consequences for brain development."
Others are forced to use dangerous tools and machinery, lift heavy loads, and climb dangerous heights to pass tobacco for drying. A lack of health education and safety training, inadequate water, sanitation and shade, and a lack of personal protective equipment are listed as other risk factors.
Cost of education
Many of the children who have gone to work in the fields are in fact supplementing the income of their impoverished parents.
Gabriella G., a 42-year-old mother of six, told HRW why five of her children are currently working in the tobacco fields.
"What I earn is not sufficient for my family. My children have to work to buy school supplies, clothes, the things you have to pay for at school."
Other children said similar circumstances pushed them into the fields. One 13-year-old, Raul D., told HRW, "I work so that I have money to buy clothes for school and school supplies, you know, like crayons and stuff. I've already bought my backpack for next year."
Adriana, a 14-year-old from Kentucky who works as a hired hand on tobacco farms along with her parents and four brothers, sang a similar tune.
"I use the money for school supplies and to go on field trips," she said.
One 11-year-old named Jerado working the fields in Kentucky even said he was saving up to go to college.
Perfectly legal
What's perhaps more shocking is that all of it is legal. While in most industries the absolute minimum working age is 14-15 years old, different rules apply to the agricultural industry. While children as young as 12 can be hired to work unlimited hours at a large tobacco farm, those as young as seven can be utilized on family farms.
"The US has failed America's families by not meaningfully protecting child farmworkers from dangers to their health and safety, including on tobacco farms," said Wurth. "Farming is hard work anyway, but children working on tobacco farms get so sick that they throw up, get covered by pesticides and have no real protective gear."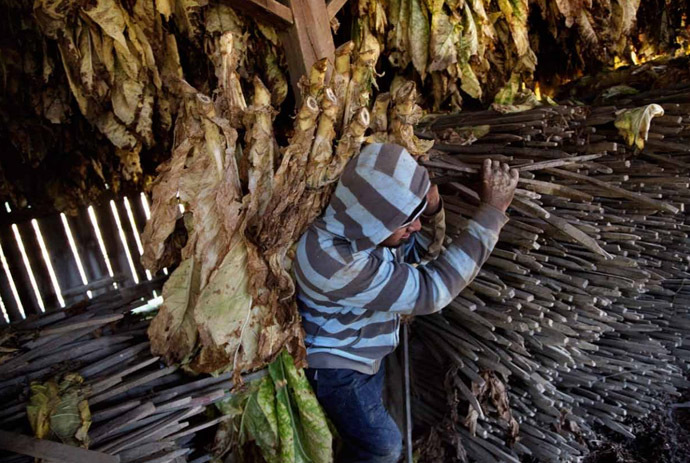 HRW notes with some irony that the largest tobacco companies in the world purchase tobacco grown in the US to make popular cigarette brands like Marlboro, Newport, Camel, Pall Mall and others. And while these companies cannot legally sell cigarettes to children, they are able to benefit from child labor.
They also recommend several measures, including amending the Worker Protection Standard to impose a minimum age of 18 for all pesticide handlers, and the enactment of legislation that would prohibit children under age 18 from engaging in hazardous work on tobacco farms, "including any work in which children come into contact with tobacco plants of any size or with dried tobacco leaves."
Passing the buck
In response to the report, Phillip Morris International (PMI) said it would broaden its internal monitoring effort to visit all contracted farms in the US. PMI further stated that "it did not agree with Human Rights Watch's recommendation to extend restrictions on children working to all stages of the tobacco crop."
Altria Group, the parent company of three US tobacco companies, including Philip Morris USA, said the HWR recommendations are "counter to current farming practices in the US" and "at odds with certain communities where family farming is a way of life."
Other major cigarette manufacturers, including British American Tobacco and Reynolds American, stressed that the children were not in their direct employ, effectively diffusing responsibility down the supply chain of outsourced labor.
You can share this story on social media: