Cost of cancer drugs double in a decade
Published time: 7 May, 2014 20:39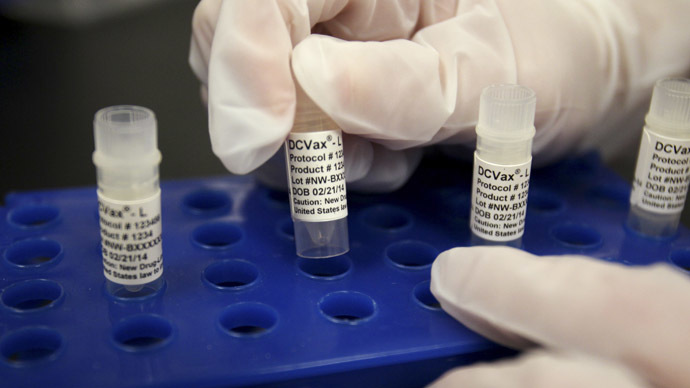 Nearly $100 billion was spent around the world last year on cancer medicines, according to a new report, and the costs of life-saving drugs for consumers have doubled in just a decade to $10,000 a month.
In all, $91 billion was spent last year, researchers at the IMS Institute for Healthcare Informatics write in a new report, up from $71 billion in 2008. Between 2004 and 2014, the study found, cancer drugs went from costing $37 billion to more than double that.
With regards to the US, Americans paid $37.2 billion for oncology treatments in 2013, the study found — the same amount the whole world was spending a decade earlier. Together, Americans spent $329.2 billion last year on medication.
"We'll cross (the $100 billion) threshold in the next year or so," Murray Aitken, the institute's executive director, told the Associated Press this week with regards to the cost of oncology treatment. By then, the AP added, cancer medicine would consist of around 10 percent of all that's spent globally on prescription drugs.
As prices soar, however, researchers say so does the number of cancer patients willing to forego costly treatment.
"The evidence of patients stopping their therapy due to high out-of-pocket costs is alarming," Murray Aitken, executive director of the IMS Institute, told CBS MoneyWatch. "Fortunately there are patient assistance programs and other mechanisms available to help patients with this issue."
In an official statement, Aitken said that even recent attempts to offset those costs have yet to be proved successful.
"Following several years of decline, 2013 was striking for the increased use by patients of all parts of the US healthcare system – even in advance of full implementation of the Affordable Care Act," he said. "Growth in medicine spending remains at historically low levels despite a significant uptick last year, and continues to contribute to the bending of the healthcare cost curve."
But abroad, the costs of cancer drugs have yet to surge as high as they have stateside. In Europe, for example, the report found that national discounts offered by governments there have allowed cancer drugs to cost in some cases 40 percent less than in the US.
According to the study — aptly titled "Cancer Drug Innovation Surges as Cost Growth Moderates" — hospitals have been charging an average of 189 percent more than private practices in order to provide oncology treatments.
The most expensive drug named in the report — a skin cancer treatment called Yervoy — now costs around $117,648 for a single course of treatment, the study found.