Major internet firm blames ISPs for purposely slowing down web traffic
Published time: 6 May, 2014 18:39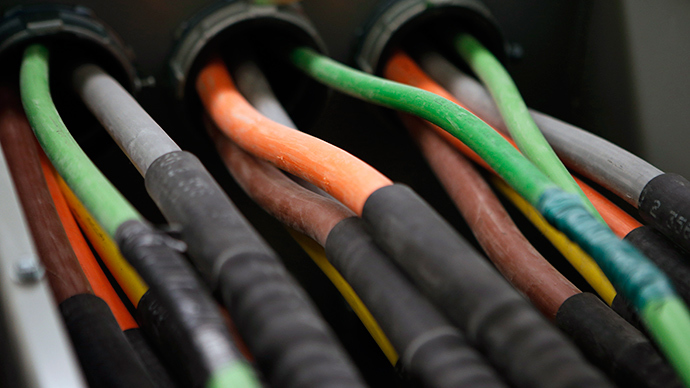 Are Internet Service Providers responsible for insufferably slow connection speeds? A major web company that lets ISPs use its 180,000 miles of fiber cables to transmit content around the globe says certain entities are to blame for congestion problems.
According to a blog post published this week by the vice president of content and media at Level 3 — the world's largest so-called internet backbone provider — ISPs aren't exactly innocent when it comes to causing those connectivity issues.
Level 3 exec Mark Taylor wrote in Monday's blog post that six ISPs across the globe, including five in the US, are allowing connection problems to continue on a regular basis because they refuse to pay for infrastructure upgrades that would greatly speed up the delivery of data.
As RT reported previously, Level 3 is one of a handful of companies that, combined, control hundreds of thousands of miles worth of cables over which web content is carried. That company alone, for instance, has enough cable to circle the equator several times over.
"Level 3 uses that network to sell Internet Services to tens of thousands of customers all around the world. But, despite the huge amount of infrastructure that we built and contribute, we are only one part of the global Internet," Taylor wrote this week.
Indeed, other backbone internet providers exist and share their services with one another in order to make the web as navigable as possible. Then those main arteries are accessed by last-mile ISPs, like Comcast, Verizon and countless others around the world, who in turn transmit content like web sites and streaming videos to household customers.
Six of those ISPs, Taylor wrote, are causing complications though. He neglected to name them during this week's blog post, but he did say that of Level 3's 51 "peers," half-a-dozen are responsible for facilitating congestion problems.
According to Taylor, Level 3 lets those 51 peers connect to over 1,360 Ethernet ports around the globe, with some ISPs plugging their networks into as many as 20 ports at a single connection point. On average, he wrote, those ports are utilized to around 36 percent of their respective capacity, easily letting ISPs deliver content to customers as quickly as possible without tube-clogging congestion. A standoff between other ISPs and Level 3 has worsened, however, and Taylor said that the six companies in question are deliberately causing deliverability issues.
Six peers, Taylor wrote, are using ports that are on aver average utilized 90 percent of the time, causing heavy saturation within the network and, ergo, slow speeds. And months after discussions, he added, those ISPs show no desire to make upgrades that would speed things up.
"Congestion that is permanent, has been in place for well over a year and where our peer refuses to augment capacity. They are deliberately harming the service they deliver to their paying customers. They are not allowing us to fulfil the requests their customers make for content," he wrote.
What's more, Taylor added, is that all six are major broadband consumer networks that either have a dominant or exclusive market share, meaning customers unsatisfied with slow connection speeds have no alternative.
"One final point," he concluded; "the companies with the congested peering interconnects also happen to rank dead last in customer satisfaction across all industries in the US. Not only dead last, but by a massive statistical margin of almost three standard deviations."