DynCorp-gate: How State Dept. wasted billions on Afghan reconstruction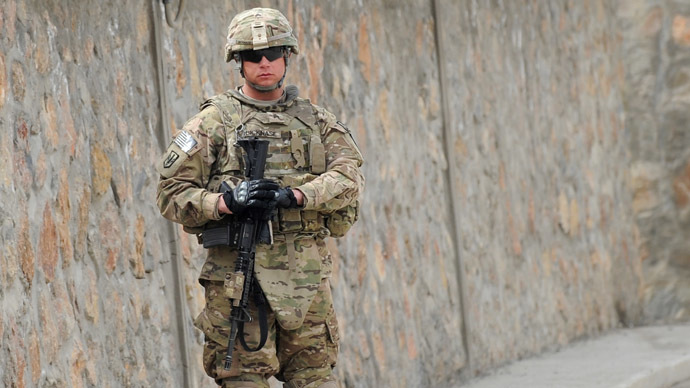 The Department of State has spent billions on Afghan reconstruction since America's longest-running war began there over a decade ago, but a new report reveals that the majority of that money went to a single contractor with a sordid past.
According to that recently released write-up, the United States gave $2.7 billion to Virginia-based military contractor DynCorp between 2002 and March 2013, even as the embattled firm was being berated by bad publicity brought on by a handful of scandals and mishaps.
In 2007, for example, a Special Inspector General for Afghanistan (SIGAR) report determined that "DynCorp seemed to act almost independently of its reporting officers at the Department of State," and had billed the US government for millions of dollars for unauthorized work. In 2011, the company agreed to settle the dispute by signing a check to the State Dept. for $7.7 million, but that same year the anti-secrecy group WikiLeaks published a diplomatic cable that further attracted negative attention to DynCorp by revealing that contractors hired an underage Afghan boy to entertain them. Nevertheless, DynCorp continued to take in billions from the State Dept. for contract work in both Afghanistan and Iraq.
The latest SIGAR report — published on Thursday last week — reveals that, despite this reputation, DynCorp managed to rake in more money from the State Dept. than any other contractor. As the US prepares to withdraw combat troops from Afghanistan, however, DynCorp's efficiency is being called into question.
Of the roughly $4 billion spent by the State Dept. between 2002 and March 2013, the US awarded 1,874 contracts, grants and cooperative agreements to 771 organizations and individuals, according to the report. Of that chunk, about $3.5 billion — or 87 percent — went to supporting large, so-called "rule-of-law" projects — and almost all of that ended up being awarded to DynCorp.
The $2.7 billion in government contracts — $2,751,391,412.62, to be exact — that was awarded to DynCorp during that 11-year duration was for the primary purpose of "police development," according to last week's report. And as the SIGAR's summary indicates, the sheer amount of money awarded to DynCorp far exceeds every other State Dept. contract.
"The top recipient of State reconstruction funding by total awards was Dyncorp International Limited Liability Corporation (Dyncorp)," the SIGAR report reads. "Dyncorp received approximately $2.8 billion in contracts, accounting for 69 percent of total State Department reconstruction awards." The firm that received the second-most money from the State Dept. through contractors was PAE Government Services Incorporated at $597.8 million — or about one-fourth of what DynCorp received. The next company on the list was awarded only one-tenth of that.
But were the billions dished out for law enforcement operations in Afghanistan even worth it? The latest SIGAR report notes that "Dyncorp contracts dealt principally with training and equipping the Afghan National Police and counternarcotics forces," and "included police trainers, construction of police infrastructure and fielding police equipment and vehicles." Last November it was reported that Afghan opium production has only surged, and just last week three American civilians were killed as the result of an attack in Kabul. According to the iCasualties.org website, 16 US troops have died so far this year in Afghanistan.
Neil Gordon, an investigator with the DC-based Project on Government Oversight transparency group, asked in an article published last week if it made sense to but a firm with such a "colorful past" at the helm of reconstruction efforts. DynCorp, Gordon wrote, has previously been linked to "instances of labor smuggling,weak performance and over payments on a base support services contract,botched construction work on an Afghan Army garrison and lawsuits filed by disgruntled subcontractors." Nevertheless, they've remained the State Department's go-to guys when it comes to Afghan contracts.
State Dept. whistleblower Peter Van Buren wrote for Firedoglake this week that he thinks these massive contractors several implications, in his opinion.
"The smallest issue seems to be the massive hemorrhaging of money into just one corporate pocket. Given the amounts, one looks forward to future SIGAR reporting about how this came to be. How many non-competed contracts? How many insider deals? How much unaccounted for money? The appearance of corruption, as well as the opportunities for corruption, are evident," Van Buren wrote.
"The next issue of course is what, if anything, was accomplished with all that taxpayer money absent enriching a few large corporations. Pick your trend line, and it is hard to find much bang for the buck(s) in Afghanistan," he added.
Van Buren isn't the only one that has raised objections recently about US money in Afghanistan, either: earlier this month, a letter from SIGAR's general counsel accused the US Agency for International Developmentof having "covered up information" that showed that the Afghan government has been largely unable to account for cash or resources provided through US support endeavors.
You can share this story on social media: