Warrantless cellphone searches get hearing in Supreme Court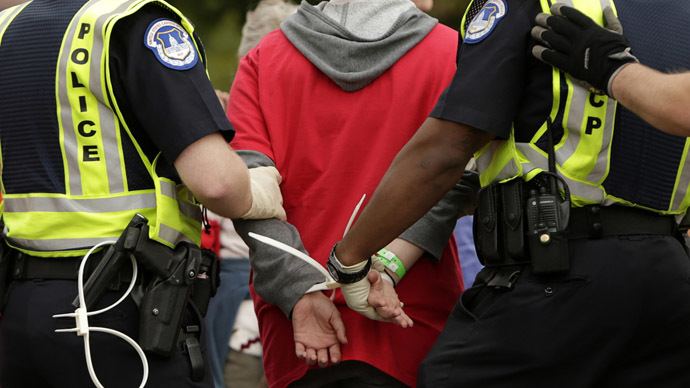 The Supreme Court will hear two cases – one involving a suspected drug dealer, the other a gang member – to determine the legality of police searching cellphones without a warrant at the time of an arrest.
The landmark cases pit the Obama administration, still reeling from whistleblower Edward Snowden's NSA revelations, against civil rights advocates who say police are conducting illegal search and seizures.

In the digital age, when about 90 percent of US citizens own cellphones and 58 percent have a smart phone, a legal battle is raging behind the scenes as to whether cellphones should be protected under the Fourth Amendment, which forbids "unreasonable searches and seizures." Or should the technology become fair game for the police following an arrest?

The question will be considered in the case of David Leon Riley (Riley v California 13-1312), who was pulled over in San Diego in 2009 for driving with an expired license. After discovering guns in his car, the police found evidence on Riley's Samsung smart phone that got him convicted on attempted murder charges.

The state of California rejected efforts by Riley's attorney to toss out the use of the digital evidence.

In the other case (United States v Wurie, 13-212), Brima Wurie was arrested in Massachusetts for dealing drugs. Following a search of his cellphone's call log, investigators found an address, where they discovered more illegal substances and a gun. Unlike the case of David Riley, Wurie had his sentence overturned when the court rejected the evidence retrieved from his phone.

Under the Fourth Amendment, police require a warrant based on "probable cause" before they can conduct a search.

In the past, the courts have granted police the authority to search the possessions of arrested individuals for two reasons: determining the individual is not carrying a weapon and preventing the destruction of evidence, like narcotics.

The question of cell phones, they argue, does not fit into either category.

Jeffrey Fisher, the lawyer for Riley, pointed to FBI statistics showing some 12 million Americans were arrested in 2012 alone, mostly over "minor crimes" like "jaywalking, littering or riding a bicycle the wrong direction on a residential street," he said in his court filing.

It would be wrong, Fisher believes, that police would have the authority to search a person's cellphone without first getting a court order to provide a warrant.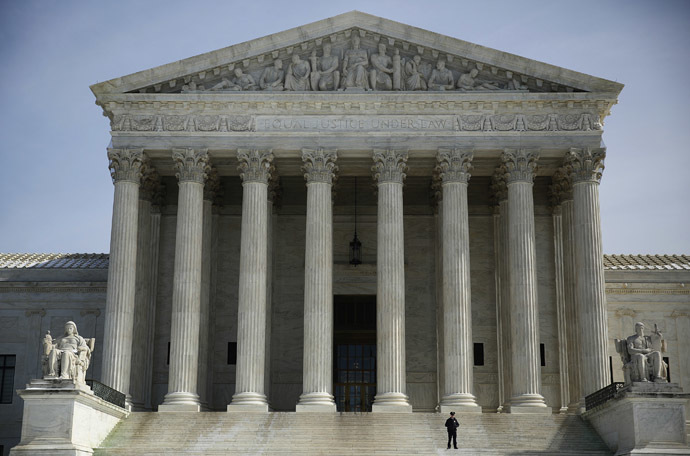 "The digital contents of a smart phone are categorically incapable of threatening officer safety. And once police have seized and secured a smart phone, there is no risk that the arrestee might destroy or alter its digital contents," Fisher continued.

"Such files hold exponentially greater amounts and types of sensitive personal information than any physical item."

Civil rights watchdogs agree with that position.

"Cellphones and other portable electronic devices are, in effect, our new homes," the American Civil Liberties Union said in a court filing urging the Supreme Court to uphold the letter of the Fourth Amendment.

The Electronic Frontier Foundation (EFF argued on behalf of privacy, reminding that smart phones hold huge amounts of personal data.

"The breadth of that information would likely reveal an individual's medical history, religious beliefs, political affiliations, network of friends, colleagues, intimate associates, and acquaintances," as stated in a friend-of-the-court letter filed by EFF and others.

However, the Obama administration - and despite the criticism it received in the wake of the Snowden NSA leaks, which detailed a vast global surveillance system being used against friends and enemies alike - is in favor of granting police access to private data without a warrant.

"It is now common for drug deals to be arranged by cell phones, for violent street gangs to communicate through text messages, and for child abuse to be recorded on camera phones," the Justice Department stated in its court filings. "In today's world, cell phones are particularly likely to contain evidence of unlawful activity and to help law-enforcement officers identify suspects they have apprehended."

According to this argument, cellphones are no different from anything other possession a person may be carrying when arrested.

"Cellphones are now critical tools in the commission of crimes," said Donald Verrilli Jr., the administration's top Supreme Court lawyer, AP reported.

Officials, however, are urging caution in coming to any quick conclusions in the case because the "technology is changing rapidly," Attorney General of California Kamala Harris said in her court filing.

The court is expected to arrive at its conclusion in the cases by late June.