'NATO 3' members receive lengthy prison sentences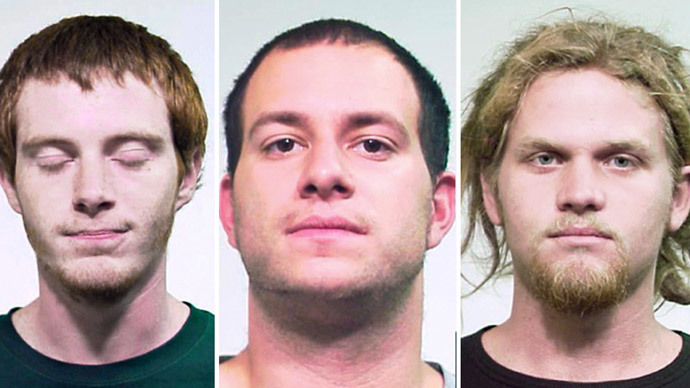 A federal judge on Friday sentenced three activists to prison terms ranging from five to eight years for their part in a foiled plot ahead of the 2012 NATO conference in Chicago that had been branded as an act of terrorism by the prosecution.
The so-called "NATO 3" — Brian Church, Jared Chase and Brent Betterly — were originally accused of providing material support for terrorism and conspiracy to commit terrorism after undercover police officers infiltrated their group and arrested the men shortly before the May 2012 summit in the Windy City, then said they plotted to set fire to local buildings using homemade Molotov cocktails.
All three were acquitted of the terrorism charges in February, but were found guilty of two much lesser mob action charges and one count each for possessing an incendiary device to commit arson.
The men each faced a maximum sentence of three decades behind bars during Friday's trial, and the prosecution had urged the court to put them away for a minimum of 14 years. After defense attorneys failed to have the case re-tried or thrown-out early Friday, Judge Thaddeus Wilson announced his punishment just before 3 p.m. local time.
Church was sentenced to 5 years, Chase to 8 years and Betterly to 6, according to a Chicago Tribune dispatch published moments after Friday's hearing concluded.
According to Tribune reporter Steve Schmadeke, a lawyer for one of the man accused the prosecution during Friday's trial of failing to give up their faulty terrorism case leading up to this week's sentencing despite February's acquittals.
Prosecutors, attorney Thomas Anthony Durkin said, were trying to "salvage a lousy, rotten case" with stiff prison sentences, Schmadeke reported.
"They still don't get that the whole world is laughing at them," Durkin — Chase's attorney —told Judge Wilson, according to the Tribune.
Federal prosecutors also argued at trial that the men displayed a "defiant refusal to take responsibility for their conduct." Their alleged part in the plot has been questioned at length by onlookers of the case throughout the ordeal, however, due to allegations of entrapment that have been made because of the role that undercover police officers played in coercing the men to plot the failed attacks. In February, the Tribune reported that one of the officers was the first to suggest the men consider making Molotovs, and even offered his clothing as a makeshift wick during construction of the crude explosives.
"We weren't serious about what we said," Betterly said Friday, according to a local NBC affiliate. "They were just words. Because of those transgressions, I've lost two years of my life."

"I'm not a perfect person," the affiliate quoted Church as saying, "and like other human beings, I've made mistakes."

Church, Chase and Bettertly have already spent 709 days each in custody, and will be credited that as time served. Witnesses at Friday's hearing reported that the defense called a doctor to the stand, who in turn testified that Chase has Huntington's disease — a rare neurological disorder — and could need nursing home care in just five years' time.
A demonstration has been planned by supporters of the activists for 4 p.m. on Saturday outside of the Cook County, Illinois jail where they are held.