Rasmussen: Americans disillusioned by both political parties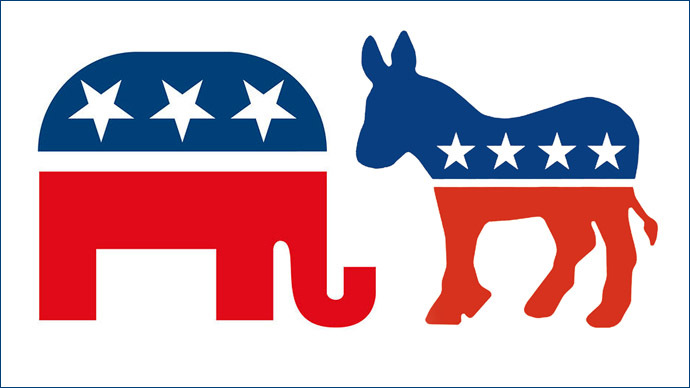 The Democratic and Republican leadership in Congress have a tough enough time as it is trying to find common ground with one another, but a new poll reveals that a majority of Americans can't say they truly identify with either political party.
Fifty-three percent of likely United States voters told pollsters at Rasmussen recently that they believe neither of the two mainstream parties represents the American public, the research company reported this week.
According to the results of the Rasmussen poll released on Thursday, just over half of the people quizzed "think it is fair to say that neither party in Congress is the party of the American people."
That statistic, the pollsters added, demonstrates an increase of six points during the same number of months, since only 47 percent of Americans said they agreed when Rasmussen last asked the question in October.
And just last week, a separate poll conducted by Rasmussen indicated that Congress has earned its lowest performance rating in months. That same report also revealed that only seven percent of voters believe the average congressman listens to their constituents — the lowest level of confidence to date, Rasmussen reported.
Earlier this year, competing pollsters Gallup determined that 42 percent of Americans now identify as Independents — the highest statistic ever found during the group's 25 years of questioning.
But while the latest news from Rasmussen suggests that Americans aren't too keen on either major congressional party, the results of another poll published by the group on Thursday reveals that Democrats are being favored a bit more than their right-wing counterparts.
According to the poll, 47 percent of the Americans polled agreed that "the Democratic Party [has] a plan for where it wants to take the nation." Only 38 percent of those asked answered similarly with regards to the GOP.
Something that most Americans did appear to agree on, however, is getting some fresh blood onto Capitol Hill. When asked if they thought Congress was doing a good or excellent job, Rasmussen reported, only six percent answered yes.
Seventy-two percent, by contrast, said "it would be better for the country if most incumbents in Congress were defeated this November."
The latest polling from Rasmussen was published by the group on Thursday and stems from a survey of 1,000 likely US voters conducted over Easter weekend. There is a sampling error of plus or minus three percent, with a 95 percent level of confidence.