Jeb Bush admits he's considering presidential run in 2016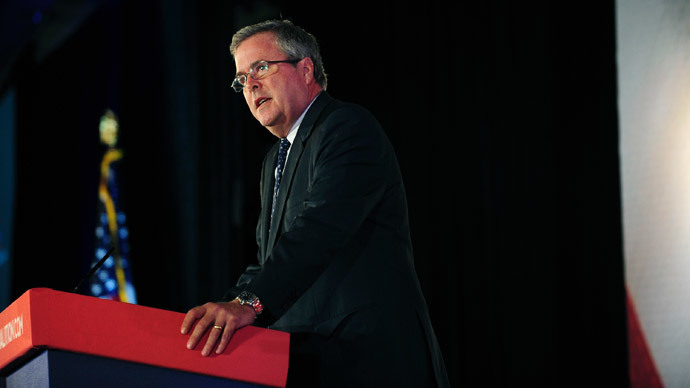 Jeb Bush on Wednesday gave the clearest signal yet that he's contemplating a run for the US presidency – saying so outright at a Catholic Charities fundraiser in New York.
According to Politico, one of the attendees said Bush was asked about the prospect of a presidential run in 2016, and the former Florida governor acknowledged he is "thinking about running for president."
Bush added that he would make a decision sometime after the 2014 midterm elections are over later this year.
After an attendee told Bush they hope he will decide to run, he jokingly asked, "Would you call and tell my mom?" Last year, Barbara Bush told NBC "we've had enough Bushes" in the White House.
Although speculation regarding Bush's political ambitions has been a popular topic of discussion, recent polling suggests he has some formidable obstacles to overcome if he's to become the United States' 45th president.
According to a new Economist/YouGov poll, the general public isn't excited about the prospect of having a third member of the Bush family assume the presidency. Of those who had an unfavorable opinion of Bush, many expressed concern over the idea of having a "dynasty" at the presidential level – something that may come into play should Hillary Clinton decide to run as well – and were also wary of ties to his brother and his conservative values.
Meanwhile, conservatives themselves aren't quite sold on Bush, either, with only 18 percent of them telling pollsters they want him to run in 2016.
Recently, however, Bush made headlines for diverging from mainstream Republican opinion on topics such as education policy and immigration reform. On Wednesday he noted that his support for Common Core – federal education standards that specify what students across the country should know by the time they finish each grade in school – is not popular among potential Republican opponents like Senators Rand Paul and Ted Cruz.
Bush also drew the ire of some conservatives when he spoke at an event commemorating the 25th anniversary of George H.W. Bush's presidency earlier this month, when he said immigrants come to the US illegally out of an "act of love."
"The way I look at this is someone who comes to our country because they couldn't come legally, they come to our country because their families -- the dad who loved their children -- was worried that their children didn't have food on the table."
"Yes, they broke the law, but it's not a felony," he added. "It's an act of love. It's an act of commitment to your family. I honestly think that that is a different kind of crime that there should be a price paid, but it shouldn't rile people up that people are actually coming to this country to provide for their families."
At Wednesday's fundraiser, Bush was advised not to "back down" from his position.
"Why would I back down from it?" he asked. "It's the right thing to do…we've got to be an inclusive party."
You can share this story on social media: