Washington state euthanizes 300 cockfighting birds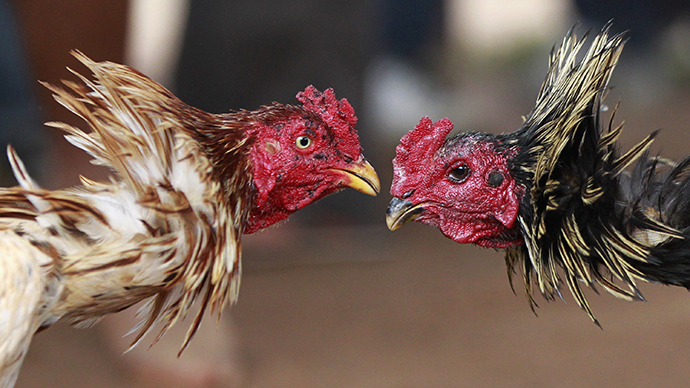 After discovering a suspected cockfighting farm and arresting the man believed to be running the operation, Washington state officials euthanized hundreds of chickens found to be raised on steroids.
The raid occurred on Monday after law enforcement authorities obtained a warrant to search the compound in Rochester, Washington. One person was arrested – 35-year-old Victor Hugo Gallegos Chavez – and is believed to have been raising the chickens for cockfights held in Oregon, Texas, and Mexico.
While still legal in Mexico and other countries, cockfighting has been outlawed across the United States.
Speaking with Reuters, Thurston County Senior Deputy Prosecuting Attorney Joseph Wheeler said officials seized 240 roosters and 60 hens in the raid – but all 300 had to be euthanized after steroids were discovered in their system. The presence of the drug made them unsafe for humans to eat and "unsuitable for rehabilitation."
In addition to the animals, the News Tribune is reporting that police also found small knives and slashers, which they suspect were attached to the chickens prior to fights. Coping saws were also found, and are typically used to cut a chicken's natural spur off its leg in order to attach a knife.
"I love chickens. I have chickens of my own," Wheeler told Reuters. "To treat a bird as a toy is something that is not right in the universe."
According to the Tribune, court documents indicate that Chavez admitted to his role in raising and selling the chickens, reportedly telling police "each rooster was worth at least $100 each and that he knew cockfighting was illegal in the United States, but admitted to selling some to family members in Mexico."
Chavez appeared in court on Tuesday, and is currently being held on a bail $25,000. Local Fox affiliate Q13 News reports that he's expected to be formally charged on Thursday, on counts of animal cruelty, animal fighting, and illegal gambling.
The investigation into Chavez's activity began nearly two years ago, in July 2012, when a gambling commission agent observed two people training roosters to fight at his home in Rochester. The Tribune states that neighbors told agents they could hear the roosters all the time, and that various, even expensive, vehicles were continuously rolling through Chavez's residence. Hidden cameras were also used to capture evidence.
According to Reuters, immigration officials have also placed a hold on the case, suggesting Chavez may have entered the US illegally.