In prison forever: Gitmo detainees might not see freedom even after Afghan War ends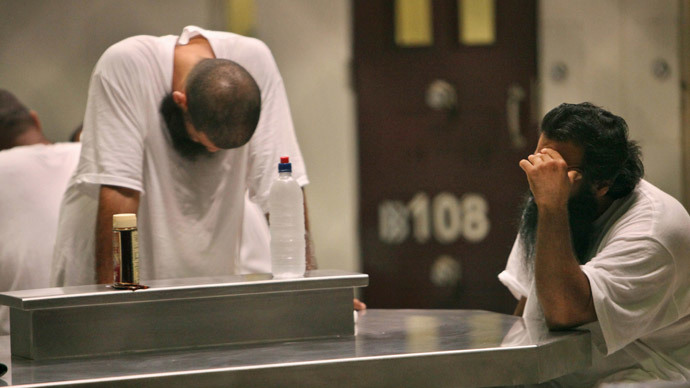 The United States military plans to end its combat role in Afghanistan later this year and close the chapter on America's longest-running war, but the Afghan men being held at the US detention facility at Guantanamo Bay aren't expected to see any changes.
Although the White House has long insisted that it will adhere to a December 2014 deadline to withdraw most of its troops after more than a decade of war, government officials past and current say the Guantanamo Bay detainees who call Afghanistan home likely won't be returning anytime soon.
On Saturday, journalist Spencer Ackermann of The Guardian reported that human rights groups and lawyers for Gitmo detainees expect new legal battles to emerge once the US formally ends its role in the Afghan War later this year because, according to the reporter, "US officials indicate there is unlikely to be a corresponding release of detainees at Guantánamo who were captured during the country's longest conflict."
Fourteen of the 154 Gitmo detainees are Afghans and "are the clearest-cut cases for release" once the war ends, Ackermann said he heard from both attorneys and former US officials.
Nevertheless, the detention center that's become infamous for interning its prisoners indefinitely isn't likely to release its Afghan detainees right off the bat.
US President Barack Obama pledged to close the facility ahead of entering the White House in 2009, and he has since made repeated claims that his administration is working to fulfill that promise. Members of Congress have hindered those attempts thus far, however, and many of the men still held on the island jail have long been cleared for release.
Now with the ending of sorts of the Afghan War, lawyer for detainees hope they'll have a new chance to fight for their clients' freedom. According to Ackermann, however, the Authorization to Use Military Force signed after the September 11, 2001 terrorist attacks may still stand in the way for the 14 Afghans inside Gitmo.
"Effectively, the AUMF unties wartime operations, including detention, from a time or a place and hinges them on membership or association with Al-Qaeda," Ackermann wrote. Indeed, a provision applying to the vaguely-defined "associated forces" of the terrorist group allows the government to justify the indefinite detention of someone remotely connected to an Al-Qaeda terrorist, although it's been both broadly interpreted and opposed by President Obama himself.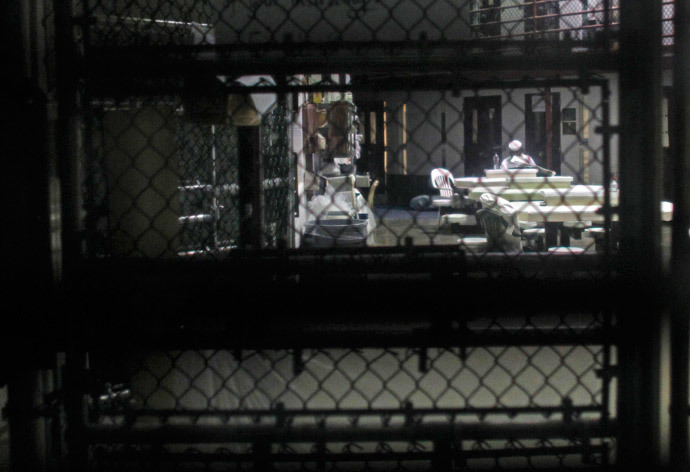 "The end of combat operations in Afghanistan is significant because it underscores that detainees not charged with offenses are no longer detainable under the laws of war," Wells Dixon of the Center for Constitutional Rights told The Guardian. "The closer we get to the end of 2014, the weaker the president's claim of continuing detention authority under the AUMF will become."
"It's classic arbitrary detention, which will be brought into starker relief as we get closer to the end of combat operations in Afghanistan. So we anticipate filing motions for release on behalf of these cleared detainees," Dixon said.
Previously, attorneys for detainee Fawzi Al-Odah, filed a petition that said his client would plea for his release "as soon as the US completes its withdrawal from the war in Afghanistan." At that point, his lawyers said, "the US government will no longer have a legal basis for holding him."
Gitmo expert Ando Worthington wrote about Al-Obdah's petition earlier and said a legal precedent "contended[s] that the Supreme Court has allowed detention of prisoners captured in Afghanistan or Pakistan only as long as 'armed hostilities' continue for US forces in that region."
But with regards to whether the end of the war there will actually spur Obama to close the facility, Worthington wrote, "the short answer to that question is probably no."
Lieutenant Colonel Todd Breasseale — the Pentagon's spokesperson when it comes to detention matters — suggested to Ackermann that Washington will continue to request the detention of anyone deemed by the government to pose a risk — including those associated forces.
"It's worth noting that we continually seek the appropriate justification for continued detention and when there is no more legal justification, we will no longer detain them," Breasseale said, adding, "We continue to assess the individual detainee cases through the Periodic Review Board process."
Only five Gitmo detainees ever have heard their case considered by the Periodic Review Board — a panel that convenes to consider releasing detainees on a case-by-case basis — and one of them, Salem bin Lanad, a Yemeni, boycotted his session before the group on Monday this week, according to a Miami Herald journalist who reported from Guantanamo this week.
And as for the Afghans awaiting release, National Security Council spokesperson Caitlin Hayden told Ackermann that the White House plans to work with Congress on a plan.
"At this stage, we are discussing this issue and look forward to engaging the Congress more robustly as our thinking progresses," she said. "They will be a critical partner in getting us to the president's goal of refining and ultimately repealing the AUMF."
Commander John Filostrat — the media representative for the military task force in charge of Gitmo detentions at Guantánamo, told the Guardian that it will be up to the Department of Defense and White House when it comes down to deciding how to proceed after December's expected drawdown.
"We fully support the president's efforts to close the detention facility, but Joint Task Force Guantánamo does not control the detainee transfer process. Our primary mission at Joint Task Force Guantánamo is to detain those in our custody in a safe, humane, legal and transparent manner," he said.