UK unveils new mask mandate and Covid testing rules, citing Omicron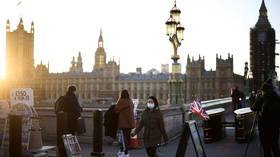 The UK has announced new Covid-19 restrictions in light of the Omicron variant, including the introduction of masks in public spaces, and the testing of all people arriving in the country regardless of their vaccination status.
The new "temporary" restrictions in response to the Omicron variant cases were announced by the UK government late on Sunday. The measures include mandatory PCR testing for all international arrivals, regardless of their vaccination status, as well as self-isolation for all contacts of suspected Omicron cases whether fully vaccinated or not.
The government also announced a new mask mandate, making face coverings compulsory in certain public spaces. In effect, the mandate changes only the rules for England, since Scotland, Wales and Northern Ireland already have indoor mask requirements in place.
"Face coverings will be made compulsory in shops and on public transport from next week. All hospitality settings will be exempt," Prime Minister Boris Johnson's office said in a statement.
Britain said it would be convening an urgent meeting of G7 health ministers on Monday to assess the Omicron situation. So far, three cases of the new strain have been detected in the UK.
"Under the UK presidency, an urgent meeting of G7 health ministers will also be convened on Monday 29 November to discuss the developments on Omicron," the department of Health and Social Care said.
The Omicron variant, first detected in Botswana earlier this month, became the dominant strain in southern Africa and, in recent days, has been detected in countries right across the world. While all 27 EU member states, the US, the UK, Russia and other nations have taken steps to restrict travel from the affected region this week, the World Health Organization has called for borders to remain open so as not to place a "heavy burden on lives and livelihoods" in Africa.
South Africa has pleaded with governments to urgently cancel their travel restrictions, with several of its senior health officials describing the Omicron symptoms they have observed as "very mild."
Think your friends would be interested? Share this story!
You can share this story on social media: