'Vulnerable people would fall for it': Viral video shows armed men dressed as police trying to enter London woman's home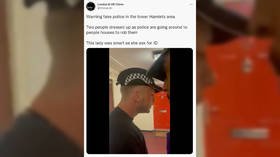 Two men dressed as police officers, armed with batons and handcuffs, allegedly tried to enter a woman's home in London's Tower Hamlets this week, before they were chased out of the area.
The targeted woman filmed the two men – who wore police caps, purple disposable gloves, and white sneakers – at her door after they allegedly tried to enter her home and refused to present identification. As the woman started to record the encounter, the two men hid their faces and became aggressive, with one of the fake officers threateningly drawing his baton and attempting to grab her phone.
Also on rt.com
Met Police advises public to challenge plain-clothes officers after Wayne Couzens used police ID to abduct Sarah Everard
Despite repeated attempts to intimidate the woman, the two men soon fled the area and pretended to call for backup through a fake radio, before sprinting away down a nearby road.
The disturbing video went viral in London on Thursday after being posted on social media by the grassroots reporting group London & UK Crime.
"Even strippers have better police outfits than this," one social media user said, while another wrote, "Telescopic batons illegal, impersonating police officers very illegal, trespass, etc etc. They'd have been better off just robbing them normal style."
Though some social media users argued that it would be unlikely for uniformed police officers to be wearing white sneakers, others highlighted the threat that the two men could pose to someone who is vulnerable, naive, or unable to fight back.
Tower Hamlets Police have not yet responded to the incident.
The issue of fake police activity has occupied the UK's consciousness since the kidnapping and murder of Sarah Everard. Though her killer, Wayne Couzens, was a legitimate police officer, he used a fake arrest in March – citing Covid-19 lockdown restrictions – and even a police warrant card to get Everard into his car before she was raped and murdered.
Also on rt.com
Metropolitan Police is worst in country at solving sexual & violent crimes, new policing study finds
Think your friends would be interested? Share this story!
You can share this story on social media: