'Concerns about how dark his skin might be': Meghan drops racism bombshell on why UK royals didn't want her son to be prince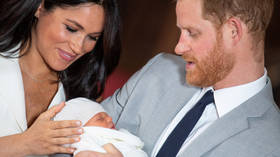 The British royal family did not want her and Prince Harry's son, Archie, to be a prince – at least partly – due to concerns about "how dark his skin might be" when he was born, Meghan Markle claimed, triggering a riot on Twitter.
"They didn't want him to be a prince or princess, not knowing what the gender would be, which would be different from protocol, and that he wasn't going to receive security," Meghan told Oprah Winfrey in an interview aired on CBS on Sunday night.
In those months when I was pregnant, all around this same time, so we have in tandem the conversation of, you won't be given security, not gonna be given a title and also concerns and conversations about how dark his skin might be when he's born.
Meghan refused to elaborate, saying that those conversations were relayed to her by Harry, and that revealing their source would be "very damaging."
The explosive claim triggered an avalanche of outrage on Twitter.
But while most users blasted the British royal family for "racism," some actually accused Meghan of playing a "race card" for sympathy.
Prince Harry, the Duke of Sussex, and his American wife officially broke away from the royal family in 2020 to focus on personal endeavors and live on their own independent incomes. The couple moved to California and have since become very vocal about politics and current affairs – traditionally a big no-no for members of the royal family.
Notably, as a great-grandson of Queen Elizabeth II, Archie was not automatically eligible for the title of 'Prince' from birth; the title is normally reserved for the children and grandchildren of the monarch. In December 2012, Queen Elizabeth II made an exception to the rule for the children of Prince William, declaring that his children with Catherine, Duchess of Cambridge, would have the title Prince or Princess and the style royal highness.
Think your friends would be interested? Share this story!
You can share this story on social media: