UK to drop Internal Market Bill clauses after agreeing with EU 'in principle on all issues in Withdrawal Agreement'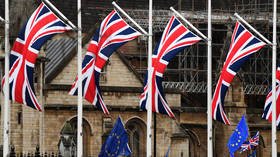 The UK and EU have agreed "in principle" on all the issues surrounding the post-Brexit protocol on Ireland and Northern Ireland, and London has dropped controversial parts of the legislation that saw Brussels launch legal action.
UK cabinet minister Michael Gove said he was "delighted" with the development, which he jointly announced with the European Commission's Maroš Šefčovič on Tuesday.
The two co-chairs of the EU-UK Joint Committee released a joint statement, explaining that they had come to an agreement over controls along Northern Ireland's border with Ireland – the UK's only land border with the EU.
The two sides said they agreed in principle on several areas, including border controls and checks on animals, plants, medicines, and food supplies for supermarkets.
The EU and UK also reached other agreements on paper, including over goods entering Northern Ireland from Great Britain, agricultural and fish subsidies, and a panel for dispute settlement.
As part of the agreement, the UK government said it would drop three clauses of its Internal Market Bill, which would have allowed MPs to override specific areas of the Withdrawal Agreement with regards to Northern Ireland, including border arrangements and financial support.
In October, European Commission President Ursula von der Leyen said the EU would launch legal action against the UK government after it failed to remove clauses from the Internal Market Bill by the end of September deadline.
Gove and Šefčovič's joint statement added that the UK had promised not to introduce any controversial clauses such as those in the Internal Market Bill into the Taxation Bill.
Also on rt.com
France won't 'sacrifice' its fishermen in any Brexit deal, minister warns
The breakthrough on the Withdrawal Agreement was welcomed by Ireland's Foreign Minister Simon Coveney, who said it would "finally provide some certainty" for the Irish border situation.
"I hope this may also provide some of the positive momentum necessary to instil confidence and trust, and allow progress in the wider context of the future-relationship negotiations," he added.
The apparent headway made over the Northern Irish border – a major sticking point of the negotiations – may provide some optimism that an eleventh-hour deal can be struck when UK PM Boris Johnson meets with von der Leyen in Brussels this week for final talks on the wider post-Brexit trade issues.
Think your friends would be interested? Share this story!
You can share this story on social media: