LGBT activists demand boycott of cosmetics chain Lush over donation to 'anti-trans' group Woman's Place UK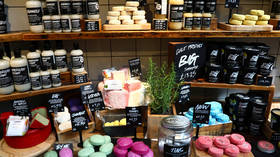 Activists are calling for cosmetics brand Lush to be 'cancelled' over the discovery that its UK arm donated £3,000 to Woman's Place UK, a women's rights group that has been accused of stoking anti-trans sentiment.
Women's Place UK received the donation for "events organisation," according to a financial filing published by the group over the weekend. All hell broke loose when LGBT outlet Pink News revealed the grant and claimed it came from Lush's "charity pot," despite supposedly violating the company's donation rules. Woke Twitter erupted in a cancellation frenzy.
While Lush told the outlet it has a policy of not funding "campaigning work, discussion or lobbying on the specifics of the proposed changes to the Gender Recognition Act," the company explained that the donation to Woman's Place UK was made before that policy was adopted. Lush's charitable donation guidelines rule out giving funds to any entities that "harbor racism or prejudice, deny the human rights of others, or judge others on anything other than their actions," according to Pink News, which implied WPUK violated all three of those restrictions.
"To make our stance clear, we do not believe that trans rights are a threat to women's rights," Lush told the outlet. "Those who are on the margins should not have to fight other marginalized groups to get the protections they deserve and have a right to."
Social media users accused the company of "pinkwashing" – using LGBT elements to conceal a darker purpose – and vowed to stop buying Lush products.
"Just the smell of Lush has very perfumed terf energy," one user snarked, referring to an epithet – Trans Exclusionary Radical Feminist – frequently deployed by the trans community against biological women. Many were horrified to learn the "truth" about their beloved bath-bomb retailer.
Lush's American arm scrambled to deliver the 'apology' trans customers were demanding, while distancing itself from the UK division. "While we can't speak to the funding choices of our UK partners, in North America we partnered with @TransEquality and @CCGSD_CCDGS to raise $450K for trans-led organizations," the company tweeted as the boycott calls began piling up. However, some former Lush employees argued the US and UK companies were one and the same.
The cosmetics chain would seem an unlikely target for such rage, given that it has historically bent over backwards to please the LGBT community. In August, a Lush store in Edinburgh posted a sign in its window advising customers with "signs of Covid-19, racism, homophobia, sexism or transphobia" after reportedly finding a "Keep prisons single-sex" sticker on the property. The seemingly innocuous message was described by advocates as "anti-trans hate."
Also on rt.com
Balancing opinions is now problematic? BBC includes different views in story about trans teen suing NHS & triggers 'woke' meltdown
Lush even created an entire "Trans Rights are Human Rights" campaign just two years ago, releasing a line of bath products in the colors of the transgender flag with profits donated to trans groups, putting together an online portal for trans people and allies, and handing out pamphlets to customers on how to support trans rights. However, the chain raised some eyebrows earlier this summer as reports it had donated gift packages to police officers circulated.
Woman's Place UK was recently forced to deny it is a "trans-exclusionist hate group" after the Labour Party proposed expelling party members who had supported the group. While the organization has lately met in secret due to harassment, it claims to record and publish every meeting and insists it supports both trans rights and women's rights.
If you like this story, share it with a friend!
You can share this story on social media: