'Shameless self-promotion': Piers Morgan attacks 'gutless weasels' in govt, projects new book onto parliament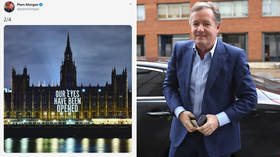 Good Morning Britain's Piers Morgan has projected a message from his new book onto the Houses of Parliament in protest at government ministers' boycotting of his show due to his caustic critiques of their Covid-19 response.
"…As everyone knows, the Government has boycotted [Good Morning Britain] for over 170 days," Morgan wrote in a Monday tweet, revealing that since the "gutless weasels" refused to appear on his show, "I decided to go to them" instead.
Next to the message, Morgan attached a nighttime photo of the Houses of Parliament showing the words "WAKE UP" which he managed to deliver onto the building's facade via a light projector.
In two more images, the words "Our eyes have been opened and we must never close them again," are seen projected onto the building.
Morgan has been a brutal critic of Boris Johnson and his government's response to the Covid-19 pandemic and his criticisms have provoked a refusal of ministers to appear on GMB, though the 'boycott' is unofficial.
Many on social media didn't take kindly to Morgan's ad-activism, with one user calling the stunt "Shameless self-promotion under the guise of 'having a go at the [government].'" Another said he was showing his "desperation" by resorting to such tactics.
Some, however, loved the audacity of Morgan's move. Media consultant Andrew Bloch called it "PR Stunt of the Day."
Also on rt.com
'Either stupid or a liar': Piers Morgan blasts UK business minister Sharma over 240,000 coronavirus tests claim
Think your friends would be interested? Share this story!