UK Environment Secretary Eustice blasted after suggesting furloughed workers get 2nd job picking fruit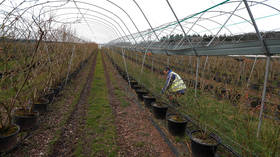 Environment Secretary George Eustice has come under sharp criticism after suggesting that workers furloughed due to the Covid-19 pandemic could get a second job in agriculture picking fruit and vegetables.
Speaking at a daily briefing on Sunday, Eustice gave some insight into how the coming shortage in the workforce can be managed. At the moment, he said, Britain's agriculture is doing fine, yet "we do anticipate" the sector to experience troubles in June at the height of the harvesting season.
"We estimate that probably only about a third of the migrant labor that would normally come to the UK is here, and was probably here before lockdown," Eustice said.
"We are working with industry to identify an approach which would encourage millions of furloughed workers, in some cases, to consider taking a second job helping to get the harvest in June."
The potential lack of workforce in agriculture has become a hot topic in the UK, and the launch of a 'Pick for Britain' campaign has been rumored for some time already.
Eustice's career advice, however, came under fire from all sides.
Many say the minister's proposal defeats the whole purpose of the furlough scheme, since the government is paying for employers to pay their workers who are staying home. While furloughed staff can technically take a second job, they are allowed to do so only outside of the hours they would normally work. So, for those who work from 9 to 5, there isn't much free time left to pick fruit!
Some said that fruit picking is tough work, and herding random white collar workers into it won't do the industry any good.
Others pointed to a potential conflict of interests regarding Eustice's family business – fruit farms – accusing the minister of seeking cheap labor.
Many said that if the working conditions and wages in agriculture were decent, the sector would not have to rely on foreigners in the first place.
The pro-EU crowd blamed Brexit for all the turmoil in the agriculture sector and lack of workforce, while taking little notice of the ongoing coronavirus crisis.
"Instead of looking at those workers and pitting them against each other – Romanian hard-workers vs British lazy f***ers – the government could think about the power relations behind the exploitative practices," Dr Lisa McKenzie, a sociology professor, wrote in a recent piece for RT.
"Such as extremely competitive supermarkets forever pushing the amounts they are prepared to pay for fresh fruit and food, forcing farmers to work towards ever-tightening margins and to seek to squeeze down on their costs. And so who ends up suffering? As always, the people at the bottom of the pile."
Also on rt.com
We working classes are happy to pick fruit alongside imported Romanians, but neither they, nor we, should be exploited so badly
The UK is among the nations hardest hit by the coronavirus, with more than 154,000 confirmed cases and nearly 21,000 dead, according to the latest figures from Johns Hopkins University.
Think your friends would be interested? Share this story!
You can share this story on social media: