'Should have got a take-Huawei': Gavin Williamson mocked over McDonald's post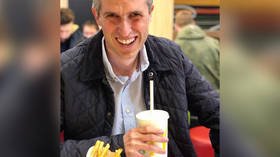 Former Defence Secretary Gavin Williamson has shown just how far he has fallen after being fired this week by sharing a photograph of himself having dinner at McDonald's.
Williamson was sacked for leaking information from the National Security Council (NSC) about Huawei's potential involvement in developing the UK's 5G network. He denies the accusation.
Also on rt.com
UK's May sacks defence minister Williamson over Huawei leak
"So the plan had been for dinner this evening with the US Defence Secretary at Lancaster House," Williamson posted on Instagram, along with a photograph of him grinning with a McDonald's meal. "Obviously things change and you just can't beat a @mcdonalds."
He also shared the image on Twitter, writing, "I've certainly had my chips this week #mcdonalds."
Many of his followers expressed their support for him, but others had great fun joking about his fast food photo, with plenty of puns about Huawei and McDonalds. Some joked that it was sad to see that he had been reduced to having to do promotion work for McDonalds.
"Eat in or take-Huawei?" one commenter quipped. "Watch out pal I think that milkshake's leaking," said another. "Just don't get in a McFlurry!!" another person said.
Like this story? Share it with a friend!
You can share this story on social media: