Snapped: UK govt docs on Williamson reveal he remains on Privy Council, entrusted to keep secrets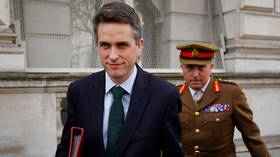 Former UK Defense Secretary Gavin Williamson, who was fired for allegedly leaking information from the national security council, appears to have retained his role on the exclusive Privy Council, where he must keep secrets.
The parliamentary private secretary of Deputy Prime Minister David Lidington has been pictured holding what appears to be a government document outlining the current status of Williamson, and his retained privileges.
The document reveals that the gaffe-prone politician will remain a Privy Council member, despite being dismissed from the cabinet by May on Wednesday.
The Prime Minister asked Gavin Williamson to leave Government, having lost confidence in his ability to serve in the role of Defence Secretary and as a member of her Cabinet. This does not affect his Privy Council status.
The Privy Council is an advisory body to the British monarch, who at present is the Queen. The body approves changes to the governance of institutions that are incorporated by a Royal Charter.
It consists of around 650 past and present cabinet members as well as the leader of the official opposition.
What is particularly eye-catching when it comes to one of the responsibilities incumbent on members is to maintain an oath to "keep secret all matters… treated of in Council."
Also on rt.com
Poetic justice: Sacked UK Defence Secretary Gavin Williamson told to go away & shut up
It comes as news emerged that Williamson will receive a payoff of around £17,000, despite being removed from government over the Huawei leak scandal, Downing Street has confirmed.
Williamson maintains his innocence. "I strenuously deny that I was in any way involved in this leak," Williamson wrote in a letter to May, following his dismissal.
Think your friends would be interested? Share this story!
Subscribe to RT newsletter to get stories the mainstream media won't tell you.
You can share this story on social media: