Should Britain be paying reparations for its involvement in the slave trade? DEBATE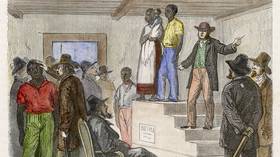 Is it only right and proper that Britain compensates descendants of Africans it enslaved during its colonial period? Or is it enough to educate people about the horrors of slavery and move on? RT guests debate the hot topic.
Social activist Lee Jasper insisted that all colonial artefacts Britain acquired as a direct result of colonial plunder now be returned to the countries of origin. UK radio host and journalist Jon Gaunt argued that that the "idea of reparations is ludicrous," saying it wasn't his generation that committed such horrendous acts.
Also on rt.com
Cambridge Uni investigates its ties to slavery, prompting both praise & disapproval on social media
It comes after Cambridge University revealed that it will conduct a two-year investigation into its links to the slave trade, and whether or not the word-renowned academic institution profited from it.
Jasper put forward the case that this issue is about "400 years of slavery" which is unprecedented, adding that, while other countries like Ghana and Gambia have had reparation schemes for 25-30 years, "Britain is really just catching up."
In a fiery debate, Gaunt accused Jasper of implying "African slavery was better than British slavery," which is "kind of stupid." He congratulated Cambridge on launching an inquiry, saying people needed to be educated, but "who would receive the money? Africans living in this country, Africans in Africa?"
Think your friends would be interested? Share this story!
Subscribe to RT newsletter to get stories the mainstream media won't tell you.
You can share this story on social media: