Tommy Robinson says he will stand as independent MEP candidate in May elections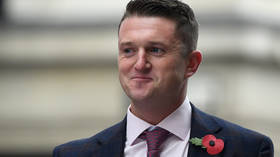 Anti-immigration activist Tommy Robinson has announced plans to stand as MEP for north-west England in the upcoming EU parliamentary elections.
Robinson will run as an independent candidate, despite being appointed as an advisor to UKIP's leader Gerard Batten. The move into politics comes nine years after he founded the far-right English Defence League in 2009.
In his bid to become one of eight MEPs for the region, Robinson will face competition from nine other political parties, including UKIP and Nigel Farage's Brexit Party in the May 23 election. Robinson has previously branded Farage as "another millionaire stockbroker who looks down at the working classes."
Also on rt.com
Facebook bans British anti-immigrant groups including EDL, BNP and Britain First
On a newly-launched campaign website, the controversial activist says that if elected, he will speak out about what he calls "the Islamification of Britain."
He also said the Theresa May government was "laughing at" the British citizens who voted for Brexit and "trying to silence" them.
In February, he was banned from Facebook and Instagram after the company said he had "repeatedly broken" its hate speech policies.
Robinson is expected to address his supporters at an event in Manchester on Thursday evening, provoking outrage among other politicians and Christian, Jewish and Muslim faith leaders in the community, who said in a joint letter that the community "rejects hate and works tirelessly for the common good."
Like this story? Share it with a friend!
You can share this story on social media: